Waitress Dragged Dog-Size Lizard From Restaurant With Bare Hands, Exemplifying Customer Service
This badass waitress tragged a lizard the size of a dog outside without blinking and we're impressed and a little scared of her.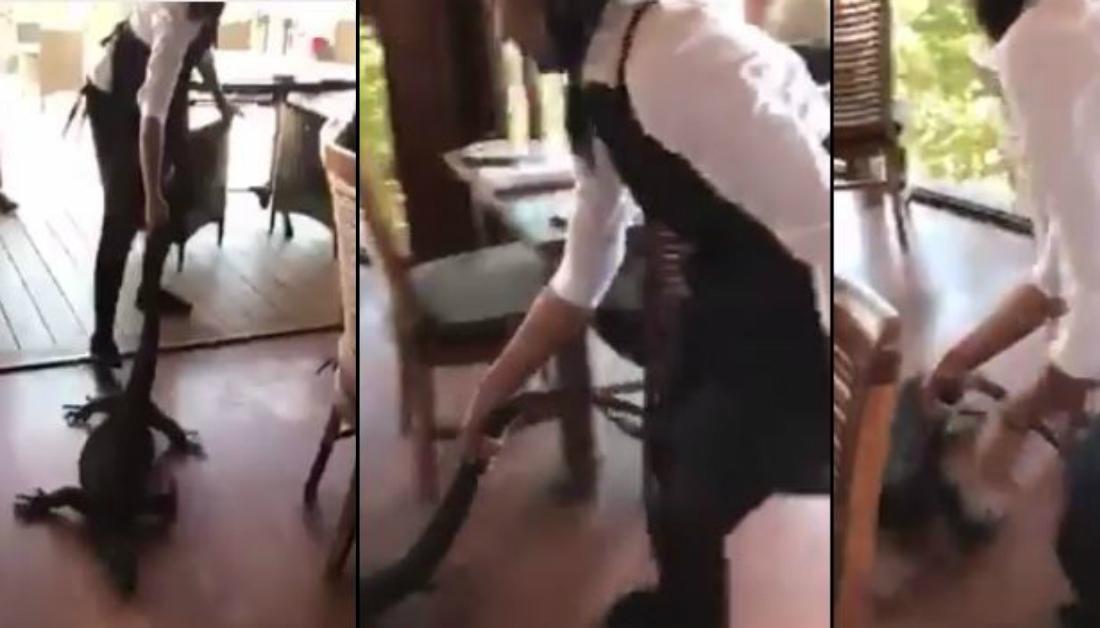 There are some people who go above and beyond the call of duty at their jobs. It's no coincidence that these people go on to do great things because they rehearsed greatness in mundane jobs.
Article continues below advertisement
But if there's one thing I learned about "everyday" jobs, is that extraordinary things happen all the time. Like when I was working at Neiman Marcus and a Taiwanese supermodel came in with her husband and bought $50,000 worth of clothes and there was this old lady who followed us around as I helped her pick out items. This old lady was eating chicken wings and it was so strangely beautiful.
But I'm going to go out on a limb and say when it comes to excitement happening at any time, Australia takes the cake. Why? The country's filled with some of the world's most bizarre animals who will come in and invite themselves into your daily life on a moment's notice.
Article continues below advertisement
Take this terrifying encounter with a kangaroo that doesn't understand the concept of home windows.
You would think that getting used to dealing with scary animals on a daily basis would be impossible.
Article continues below advertisement
However this waitress working at a restaurant seems to have no problems in dealing with an enormous goanna lizards.
The video was added by Mimosa Wines & Drystone Restaurant in New South Wales, Australia, and it shows waitress Samia Lila fearlessly grab the 6-foot monster by its tail and take it out of the restaurant so patrons could enjoy their meals in peace.
Article continues below advertisement
"I looked at it and it was a dog at first! But then I realized it was a goanna," Lila said. The 25-year-old is currently on a working vacation from France in Australia.
Lila apparently loves lizards, but is petrified of spiders. Her boss said that she could spot a daddy long legs from "40 meters" away, but when it comes to goannas, she's a total bad-ass. It's easy to see that she's developing some unexpected skills working in the land down under, but hey: You never know when you'll need to wrestle a lizard, right?