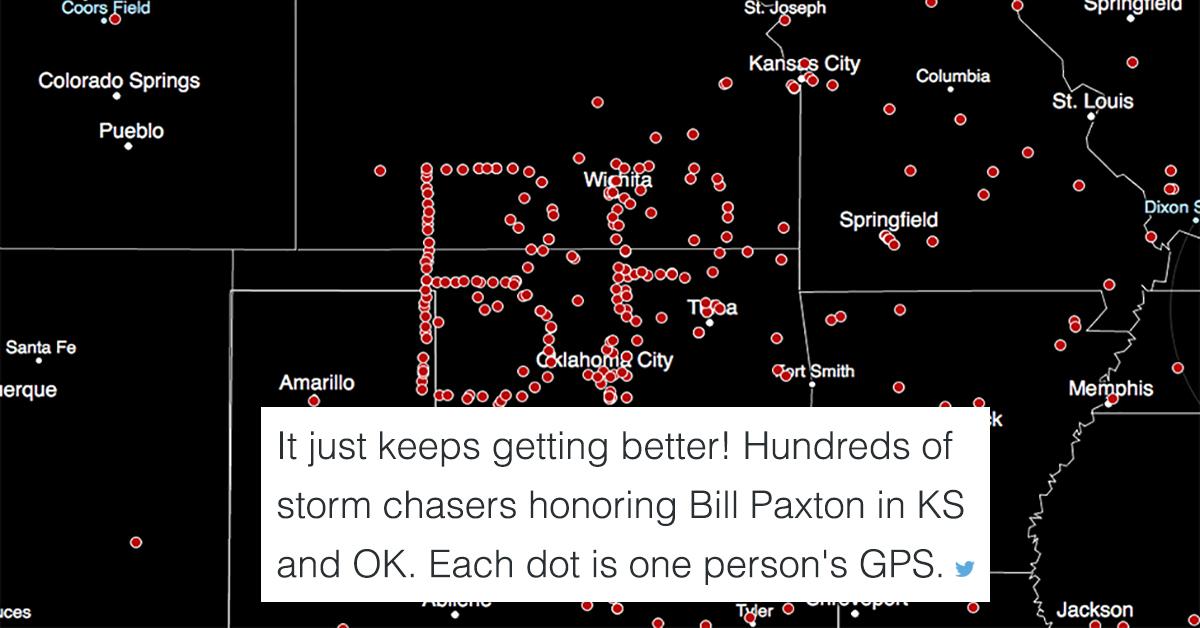 Storm Chasers Work Together To Pay An Awesome Tribute To Bill Paxton
By Mark Pygas
Legendary actor Bill Paxton died at 61 years old on Saturday due to complications following surgery. Social media was flooded with tributes from those who grew up seeing him in movies such as Apollo 13, Near Dark and Aliens.
But the role that made him a household name was as a storm chaser in the 1996 thriller, Twister. So, to thank him for raising interest in their hobby, storm chasers decided to pay tribute to Paxton by spelling out his name using GPS coordinates.
Hundreds of professionals and enthusiasts worked together using the RadarScope mobile app to form the letters "BP" with their GPS coordinates.
Which took a lot of coordination.
Here's how the rest of the world paid their tributes...
Bill originally set out to make films, but after being rejected by several film schools, his interests turned to work in front of the camera. Bill got his start with a small role in John Cameron's Terminator, later working with the director several times again, including at the undersea treasure hunter searching for the Heart of the Ocean in Titanic. On the small screen, he played the lead in the critically acclaimed HBO series Big Love.
After establishing himself as a respected character actor, Bill finally got to sit in the director's chair for 2001's Frailty, which is criminally underrated. That was unfortunately a theme for an actor respected by all who worked with him but who never received any awards for his work, even for his role in A Simple Plan, which was universally acclaimed by critics. Perhaps it was because he was so effortlessly the everyman, making every person he portrayed feel familiar and relatable, and therefore easy to take for granted.
He is survived by his wife, Louise Newbury and their children, James and Lydia.