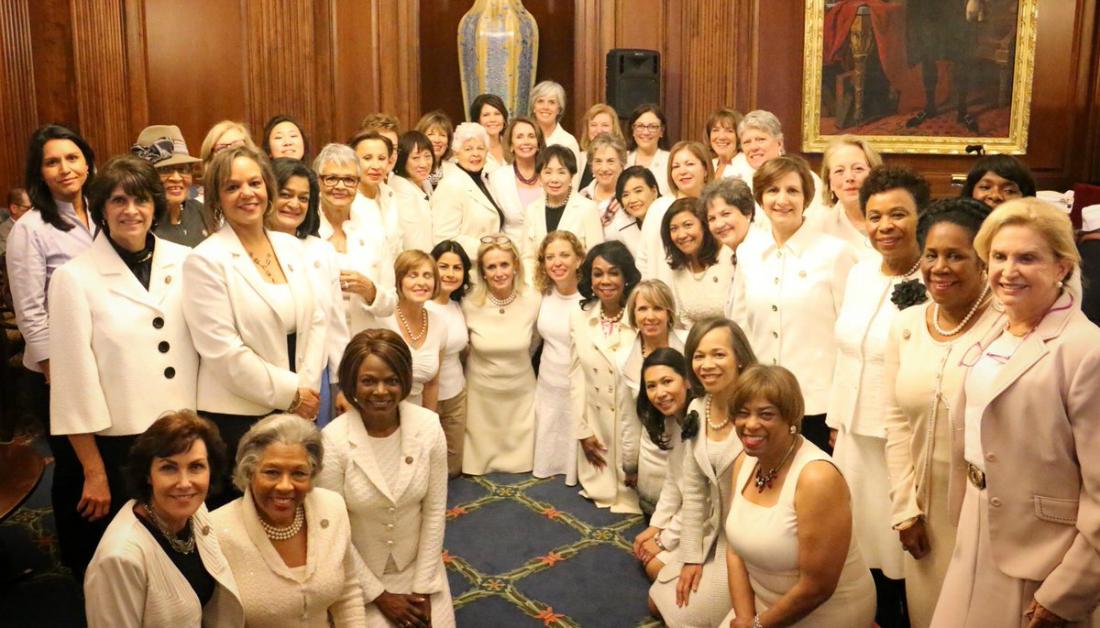 The Powerful Reason Women Lawmakers Wore White At Trump's Congressional Address
By Mustafa Gatollari
Protest can come in many forms. For my year and a half old son, it's throwing himself to the ground and flailing when I don't give him a ceramic mug I just know he's going to throw to the floor and break like he's done with five others in our home. (Seriously, babies are why we can't have nice things)
But there are more subtle and refined forms of protest that can be applied to situations, especially situations of greater social importance.
Like what these female lawmakers did as Donald Trump gave his first congressional address. Without making a sound, they made their feelings about the President and his policies as he prepared to address the legislative bodies. Mostly Democrat women from the Senate and House of Representatives made it clear on social media that it was no coincidence they were all wearing white for the occasion.
They all donned "suffragette white" clothing to send a clear message to our current President that they support women's rights.
Democratic lawmakers tweeted photos of their white outfits with the hashtag, #WomenWearWhite.
Male lawmakers joined in as well. California State Representative Mark Takano tweeted this photo of him wearing a yellow rose as a symbol of women's rights.
Donald John Trump is the 45th and current President of the United States. Before taking office on January 20, 2017, having beat opponent Hillary Clinton in the electoral college but not the popular vote, Trump was a real estate mogul, and a former reality TV star.
Born in Queens, New York, in 1971 Trump became involved in large, profitable building projects in Manhattan, under the guidance of his father, real estate developer Fred Trump.
In 1980, Donald Trump opened the Grand Hyatt New York, making him the city's best-known developer.
In 2004, Trump began starring in The Apprentice, a hit NBC reality series, and later in a spin-off series, The Celebrity Apprentice.
In 2015, Trump announced his candidacy for president of the United States running as a Republican. Trump win a majority of the primaries and caucuses, becoming the official Republican candidate for president on July 19, 2016. That same November, Trump was elected the 45th President of the United States, after defeating Democratic candidate Hillary Clinton.