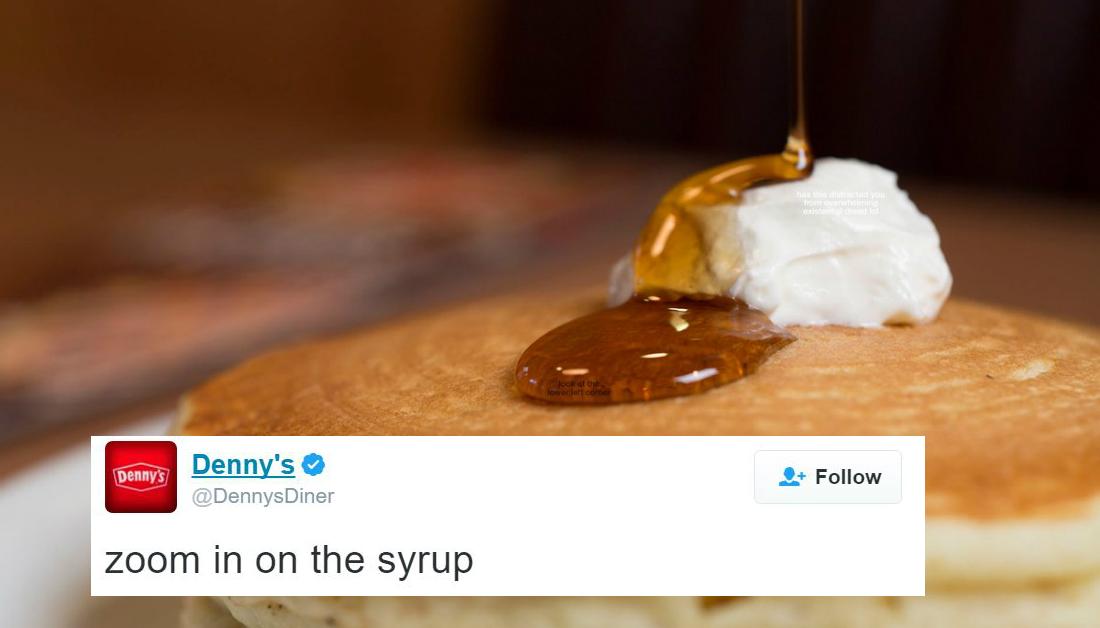 Denny's Put A Secret, Dark Message In Its Syrup, Appealing To The Nihilist In All Of Us
By Mustafa Gatollari
When it comes to America's Diner, you don't really think of dark and edgy, unless you're talking about burnt, sharp corners of bacon, then yeah, that could definitely be dark and edgy.
The restaurant has always projected an image of= being a wholesome, family-friendly place, but if you grew up in a small town where it's the only place open after 10, you know if can get wild there. And, as the night wears on, it can get a little sad and bleak. After all the 1am stoners burn through their $10, you've got lonely truck drivers, sad blue-collar workers getting ready for an unimaginably early shift, and lonely people with night-owl habits.
Also, have you ever been in a Denny's on Thanksgiving or Christmas? If you've ever seen that collection of single dads and sad people with no families, then you've truly seen darkness.
It seems like the 24-hour restaurant finally caught on to the fact that despite their cheerful image, existential dread lurks in the corners of its vinyl booths. Or at least their social media manager has.
Zoom in on this photo's bottom right corner and follow it down the rabbit hole.
I mean, that's kind of a heavy existential joke to put on a stack of pancakes, right?
People were floored that the Denny's Twitter account, of all Twitter accounts, would share such an edgy meme.
People even began questioning why other chain restaurants couldn't be any cooler.
As clever as Denny's meme is, they're not the first ones to do the "zoom in" idea.
And when it comes to edgy fast food accounts, there's also Nihilistic Arby's. But it's worth mentioning that this account isn't an official Arby's one.
"Edgy" for this one would be an understatement.