Twinkies-Flavored Coffee Is Here To Satisfy Your Morning Sweet Tooth
There are now coffee machines that brew nothing but Twinkie-flavored drinks, and we're salivating just thinking about it.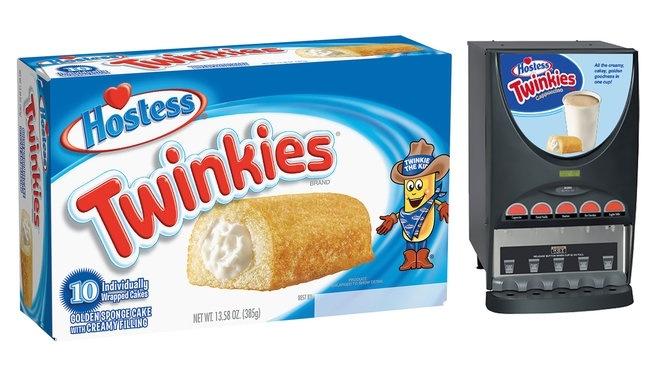 If you fancy some sweetness in your morning coffee, you're in luck: Hostess now has their own coffee-machines. These machines brew nothing but Twinkies-flavored drinks, making it super easy for you to simultaneously gulp down caffeine and satisfy your morning sugar craving.
Article continues below advertisement
Unfortunately, you won't be able to buy these delectable treats just anywhere. As of right now, the machine is a partnership with Kerry Creations, a brand that provides beverages and foods to convenience stores. Who got the Twinkie machine first? None other than fan-favorite Sheetz. Specifically, Sheetz located in the Northeastern part of the U.S.
Article continues below advertisement
But if you're anywhere else in the country and really craving a Twinkie-inspired coffee, fret not: The dessert-inspired coffee machines are expected to spread to various convenience stores across the country, making it really easy to grab one as a morning boost or a late-night indulgence.
You might be wondering: What would a Twinkie cappuccino taste like, anyway? I haven't tried it myself, but according to Food Business News, it tastes like, well, a Twinkie. Allegedly, the Twinkie Cappuccino "features a combination of milk, sponge cake flavor, and a hint of coffee."
Article continues below advertisement
Still not sold on a Twinkie-flavored coffee? Fret not, my friends, because Hostess has another delightful innovation on the market: Deep Fried Twinkies. Best part is, you don't even need to go to the county fair to get 'em.
Article continues below advertisement
Deep Fried Twinkie with your Twinkie Cappuccino, anyone?
Twinkies first popped onto the dessert scene in 1930. They were invented by James Alexander Dewar, who, at the time, worked for the Continental Baking Company in Schiller Park, Illinois. He dubbed his creation, a snack cake filled with banana cream, the Twinkie after seeing a billboard in St. Louis for "Twinkle Toe Shoes." The filling switched to vanilla during World War II due to a ration on bananas. I'd definitely love to try a banana-flavored one!
More from Distractify