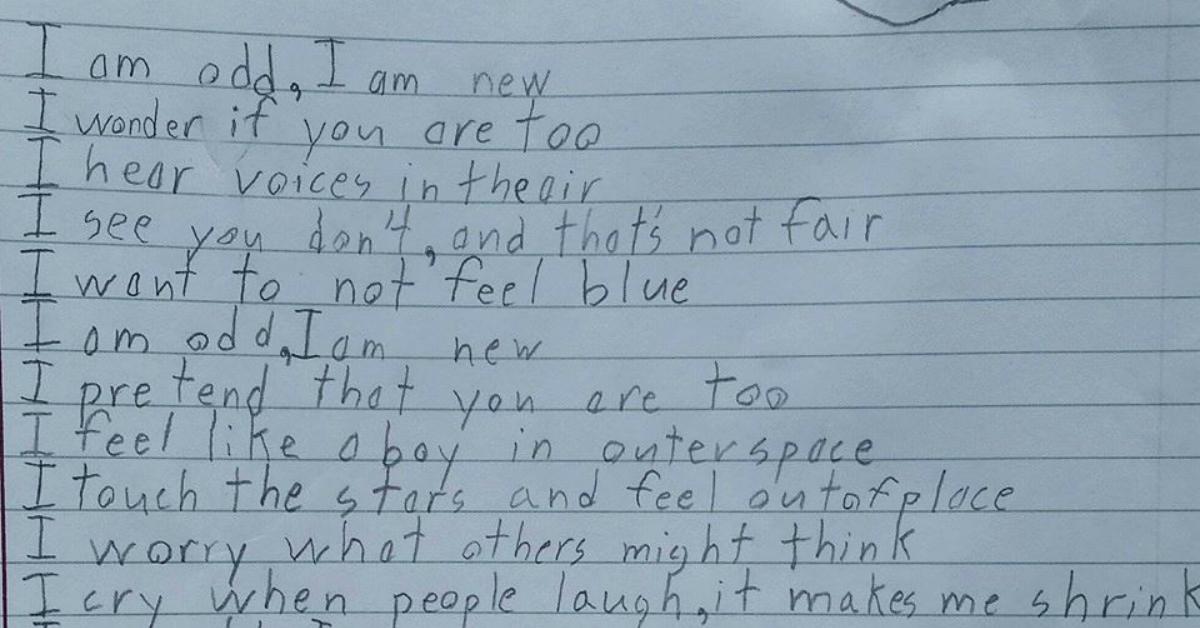 This Autistic Student's Response To His Teacher's 'I Am' Assignment Will Crush You
By Mustafa Gatollari
There's nothing that gets to me more than whenever someone makes me feel like I'm not good enough, or when they lump me into a group of people who totally suck.
Sure, a certain level of arrogance and scumbaggery comes into play whenever I get like that, but there's an undeniable anger that comes over me, along with feelings of inferiority that spirals me out of control.
I feel like everyone has similar feelings about things more or less, it's just that our reactions to these feelings are trained in different ways. It can be especially tough for people who are marginalized or who have obstacles or labels in their way that cause people to judge or make assumptions about them and their abilities.
So, when I read this autistic student's response to an assignment, I got a little choked up.
Posted by the National Autism Association on its Facebook page, the assignment had students finish the phrase "I am". 10-year-old Benjamin took the assignment and ran with it, turning it into an insightful poem about how he feels on a daily basis.
Now, Benjamin's poignant and painful response is breaking the Internet's collective heart. Here's what he wrote:
I am odd, I am new
I wonder if you are too
I hear voices in the air
I see you don't, and that's not fair
I want to not feel blue
I am odd, I am new
I pretend that you are too
I feel like a boy in outerspace
I touch the stars and feel out of place
I worry what others might think
I cry when people laugh, it makes me shrink
I am odd, I am new
I understand now that so are you
I say, "I feel like a castaway"
I dream of a day that that's okay
I try to fit in
I hope that someday I do
I am odd, I am new
The post was shared over 36 thousand times and received tons of comments, most of encouragement and awe.
I would like to put this to music for the guitar and sing/perform it? Anyone on here know how to contact the parents for permission?
This is beautiful! People have no place judging others... judgey people
Thank you Benjamin for expressing what is in your sweet 10 year old heart. You did very well and thanks Benjamin's Mom for posting. This is of great encouragement to me and my family.
Amazing and sad. We all need to have more compassion , because we don't know what it is like . Kids can be so cruel . That's why parents need to teach their children to try and have compassion .
It is tough as a kid. It's tough even for people without autism. Heck, I could have written something like that when I was your age (If I was as talented as you). One day you will understand that your uniqueness makes you a very rare gem indeed. And although you feel alone, you most certainly aren't. I suspect there are thousands of people just itching to be your friend right about now; myself included. PM me if you have an XBOX and I'll send you my daughter's gamertag. She is almost 8 would love to play ROBLOX or MINECRAFT with you.
This is someone with a heart and soul who has deep feelings about life and living. So many people don't care about anything or anybody, just themselves. Nor do they care how others see them. Wish I could tell him he has many gifts and people who care about him and would like to be his friend.
If I had a message for Benjamin it'd be not to worry brother, because we all feel odd and new sometimes, if not always.