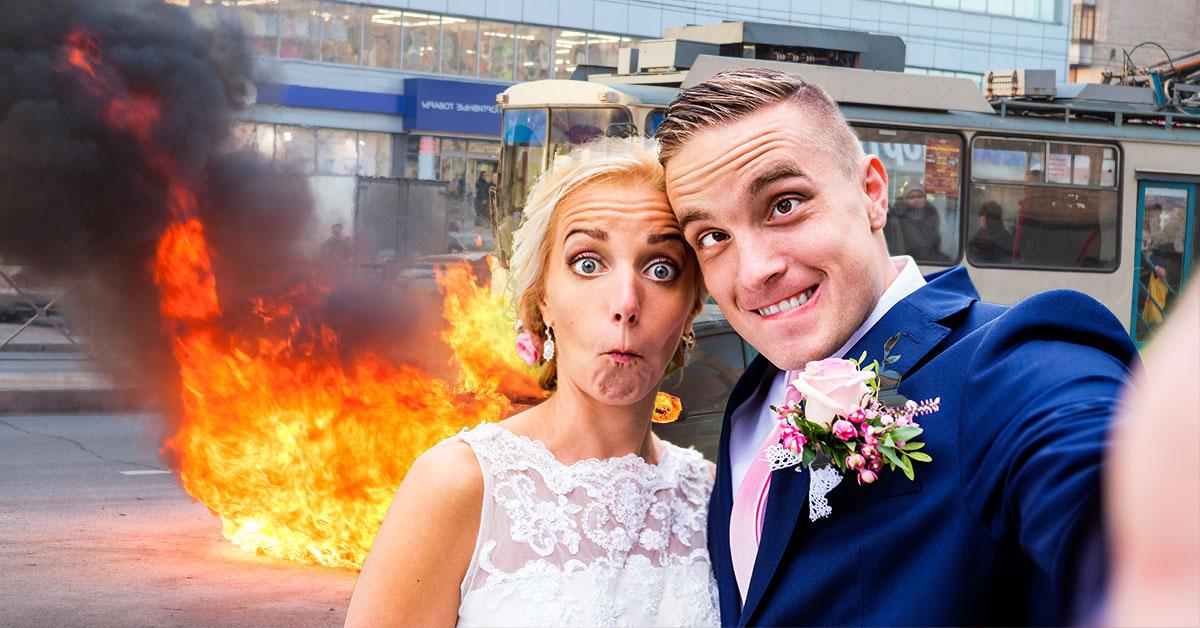 Couple's Party Bus Literally Erupts Into Flames On Their Wedding Day
By Omar Rimawi
Things were heating up for Iowa couple Krissi and Shane McCallow on their wedding day, and not in the way that you'd think. The couple rented a party bus to take them and their friends to the church where they would be tying the knot later that day. Once they arrived at their destination, things started with a bang. Literally.
They were en route to wrap up the day with the ceremony after having lunch and taking photos at the reception, at a location about 45 minutes away. It was cold, about 20 degrees out, when they boarded the bus. While they were traveling, everyone inside noted how warm it was getting, and asked the bus driver to turn the heat down.
"We were probably about 10 minutes into it and everybody was kind of warm," wedding photographer McKaila Hanna, who was on board to take pictures of everyone throughout the day, told ABC News. "The heat was super hot. It was 20 degrees outside that day so most people just crank the heat up, but it was so hot we wanted to shut it off to balance it out. The bride and groom asked the driver to adjust the heat a little bit, then it started getting kind of smoky and almost too cold so thought we should have him turn the heat back on. Nothing happened, and even more smoke started to come into the bus. It was hazy in there."
The party was already running late, and after talking it over with everyone, the couple decided to continue driving until they got to the church rather than pull over. Within a few minutes of arriving, the bus erupted in flames.
It isn't every day that you and your guest narrowly escape becoming winter barbecue, especially not on your wedding day, so the couple did what almost anyone would do in their situation: take pictures in front of the smoldering remains of the ship before it would be sent to the breakers.
The bus company refunded the couple the money and the couple went on to play out the beginning of their action-packed happily ever after story.
The unusual photoshoot made rounds as it gained popularity, with many people wishing the couple well and commending them for making the best of a bad situation, including two people who had a similar experiences on their big days.
And the most ironic shot of the day goes to this one.
Here's to a happy and healthy marriage to the new couple.