Guy Ordered One Slice Of Cheese From McDonald's And Twitter Lost It
This guy ordered just one slice of cheese from McDonald's and Twitter can't stop talking about it.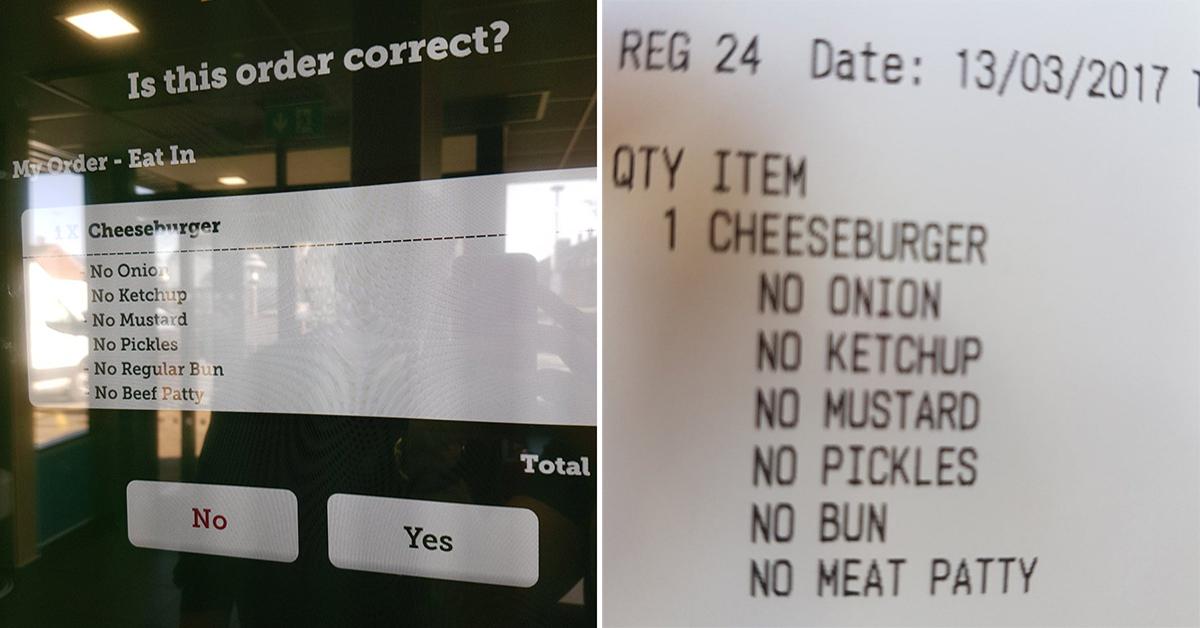 One of the coolest things McDonald's has introduced in recent years is the self serve kiosks where you can create pretty much any burger you can think of. People have used them to create $50 burger with four patties and every topping they have.
Article continues below advertisement
But Twitter user coL_Merchant decided to see just how far this could go. By ordering a cheeseburger without the bun, patty, pickles, mustard, ketchup or onions. And it worked.
Article continues below advertisement
All he got was a slice of cheese in a hamburger box. Twitter was understandably impressed.
Article continues below advertisement
Article continues below advertisement
Article continues below advertisement
Sadly, @coL_Merchant did not reveal how much he spent on that one slice of cheese, but hats off to McDonald's for playing along.
In an recent article on Business Insider, employees at the fast food chain shared some of the strangest order requests they've ever received. One woman said that a guy once asked for poached egg whites. Unfortunately, his request was denied because "it is not on the menu, we have no one trained to separate eggs, and we have no way to time it so we wouldn't know when it was done."
Another customer wanted her fries half-cut, "as in, take a knife and cut them in half," a second employee recalled. "It was lucky she only wanted a small, but still. I ended up leaving one fry uncut just to f--k with her, but she didn't come complaining."
A third employee encountered a customer who wanted her three hamburger buns burnt. "She was adamant that she wanted them ran through the toaster seven times," he wrote. "Those buns came out darker than the eyes of Lucifer." We can only imagine.
More from Distractify