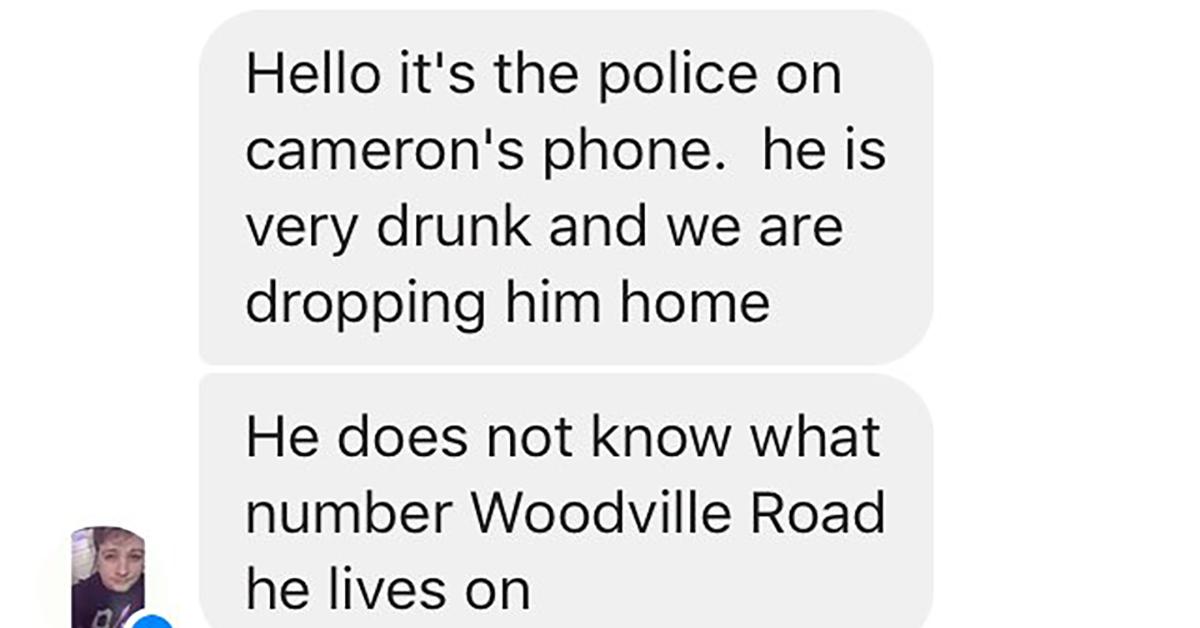 Cops Interrupt Group Chat To Get Drunk Man Home, Are The Heroes We Don't Deserve
By Mark Pygas
When you're blackout drunk, you usually want to avoid a meeting with the cops. That is unless you're 20-year-old Cameron, a student at Cardiff University in the United Kingdom.
He was very drunk earlier this week and friends were surprised when a cop hijacked their group conversation with Court and wrote, "Hello it's the police on cameron's phone. He is very drunk and we are dropping him home. He does not know what number [on] Woodville Road he lives on."
Cameron's friend, Lawrence Court, told Mashable his friends were skeptical at first. "We naturally thought it wasn't real and that Cameron was playing us," he said.
"Why would they put it on [the group chat]?" one of the friends wondered. The police officer responded, "We will get him home safe now. Don't forget to thank your friendly neighbourhood officers at Cathays station."
Still not convinced, the group called BS, until one of the officers provided photographic evidence.
We'd say that's all the proof we need.
"When the selfie came through we were in hysterics, it was so funny!" said Court. "Then it was a case of making sure that [Cameron] was okay so some friends went to check on him!"
Court took to Twitter to share the exchange, where it's since been retweeted more than 20,000 times and liked by over 70,000 people.
People found it pretty hilarious.
All in the call of duty. And remember: Don't let your friends get so drunk that the police are forced to text you.