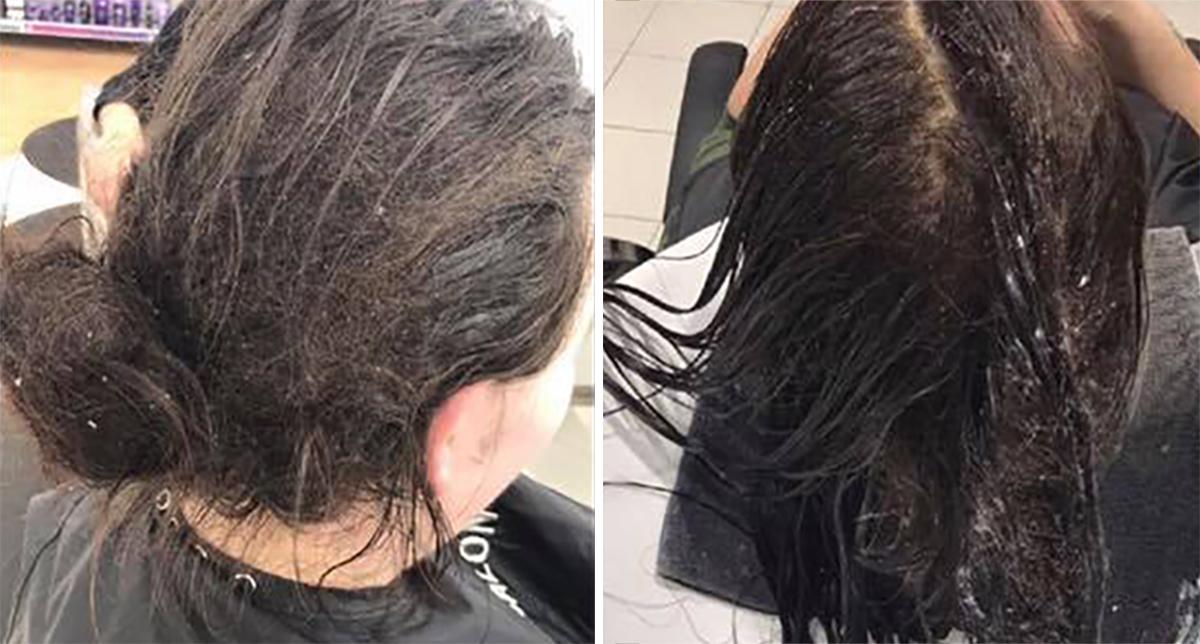 How One Hairstylist Helped A Woman With Depression Feel Like Herself Again
By Mark Pygas
Kate Langman is a hairstylist at Ulta Beauty in Oshkosh, Wisconsin. She recently spotted a woman filling her cart with products meant to soften and detangle hair, and asked if she could help her with anything.
After a brief talk, Langman discovered that the woman suffered from severe depression. Her mental illness would make her stop washing and combing her hair as she spent months at a time laying in bed. This obviously led her hair to become one a matted knot that Langman described as a "rock on the back of her head."
Langman decided to offer her services, and see what she could do to unknot the woman's hair. After nine hours of labor, here's the result:
Langman shared the results on Facebook, where the photo has been shared more than 16,000 times. She wrote:
"I work at The Salon inside Ulta Beauty. About a month ago, I saw this women pulling every product off the "All Soft" Redken line. When I asked her if she needed any help, she began to tell me her story. A very long story short, this women suffered with a very deep depression. She couldn't get out of her bed for 6 months. Which meant she didn't wash her hair or brush it. She kept pulling it back into this bun which after that long of time turned into a huge dread lock. The bun was so matted that it felt like she literally had rock on the back of her head. This is when I mentioned to just put all the product back on the shelf. We made an appointment for the following day and she didn't show up. She then called about 2 weeks later and booked another appointment. And once again, no showed. At this point I figured she wasn't going to ever end up coming in. It actually, kind of, broke my heart. I wanted to help her so much."
But after cancelling two appointments, the woman picked up the courage to come in.
"So today, out of alllll days, she comes walking in and asked if she can get her hair done today, and that she finally got herself out of bed again. I, of course, said yes. I didn't care how late I stayed, I wanted to make sure she got taken care of. She wanted to keep it on the longer side if it was at all possible. Most of the time the advice is to just cut it off..But I wanted to make this work for her. I wanted her to know how hard I was going to try to make her feel great again. I explained to her prices and she said 'I don't care about the price, I just want to look like myself again.' I spent 8 1/2 hours with this girl. 4 1/2 hours of combing, and 3 hours coloring and 1/2 hour for the cut. All of this time, I'm just telling myself to keep going.. that this is going to be all so worth it."
Langman explained that the haircut not only transformed the client on the outside, but also helped her internally.
"By the end of this service, I could see the sparkle in her eyes and I could see her cheeks get rosy pink from the excitement of not only being able to run her fingers through her hair again, but she felt herself again. I changed someone's life today.. & I'll never ever forget it. And if this ever makes its way back to her, I want her to know how great, wonderful, kind, loving, and how strong of a person she is. And not only those things, but how beautiful she is.. she deserves nothing but happiness.. & I'm so thankful and so grateful I got to help with her first step."
"So in conclusion. I LOVE MY DAMN CAREER."
Facebook commenters were impressed with Langman's dedication.
One user wrote:
"Bless your heart! Thank you for being so compassionate! The world needs more of this."
Another added:
"You're amazing. I've got manic depression to can't get out of bed it's no life just an existence and things like hair washing is a big burden I see a councillor once a week just to make sure at least I'm out one day but yeh it's took its toil on my hair can hardly brush it but then if I'm in bed no one sees me anyway and hairdressers are so hard as u have to look at yourself and your brain keeps telling u ur ugly it's not a life there should be more people like you we aren't lookiing for attention. This is real your an angel."