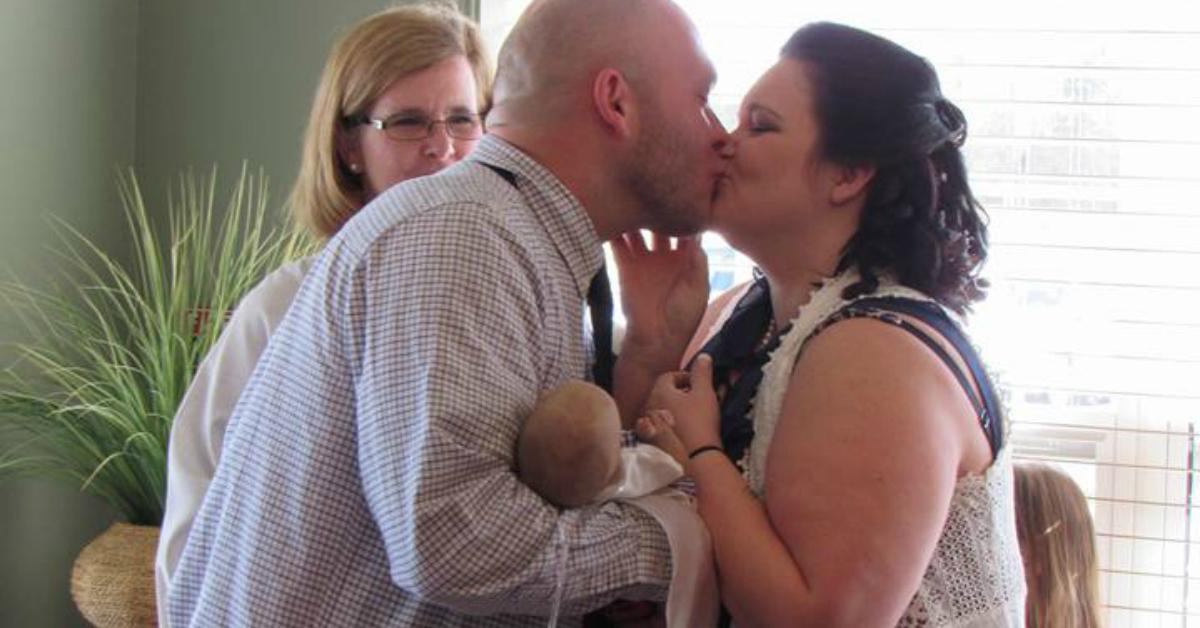 Couple Marries In Hospice To Include Dying Infant In Wedding Ceremony
By Mustafa Gatollari
We all auditioned to be alive. We all fought like hell to get to that egg. We killed tons of other sperms, raced them to be fertilized. If you ask me, we're all a champion at the end of the day.
So it makes sense why babies, so early in life, are such strong fighters. I've seen adults kind of give up on their dreams and not go after anything that really matters to them. But children? Man, they fight tooth and nail.
Which is why whenever I see stories about ailing children, I always think in the back of my mind that they're going to pull through.
Patricia Armstrong and her husband, Christopher, experience first-hand how hard babies fight for life.
Their 1-month-old son, Connor, was unfortunately born with Trisomy 18, a rare genetic disorder that causes genetic birth defects that usually result in death. Connor has an extra 18th chromosome and in his case, resulted in him being born with three holes in his heart.
Wanting their child to be a part of their wedding, Chris and Patricia held a ceremony at the hospital so Connor could be a part of it.
In a touching Facebook post, Patricia said goodbye to her son.
Our baby boy was a fighter, he proved so many doctors wrong so many people wrong by making it as long as he did. && he touched so many people's lifes, ours the most. The way he looked at us as we held him the love we seen in his eyes, the way he'd reach his little arms out at his little sisters, the way he'd smile out of no where and make our day a little better. I don't care what anyone thinks about the decisions we made in regards to our baby boy. We gave him the chance to live, love and be loved. We gave up everything to be closer to our son. We fought for Conner, and in return he fought for us and as long as he was fighting we'd be right there. Conner was truly heaven sent and we don't regret allowing him to have a chance at life. He was loved by so many and always will. We love you Conner Alexander Armstrong please pray for us as we pick up the pieces to our life. Find a new home and get things back to somewhat normal if at all possible
Connor's funeral was a touching celebration of his short life.
It's a bittersweet ending for the Patricia and Christopher and a reminder to us all that we've only got one life to live, so we should make it count. The family has set up crowdfunding campaign to help cover the costs of Connor's funeral, you can check it out here.