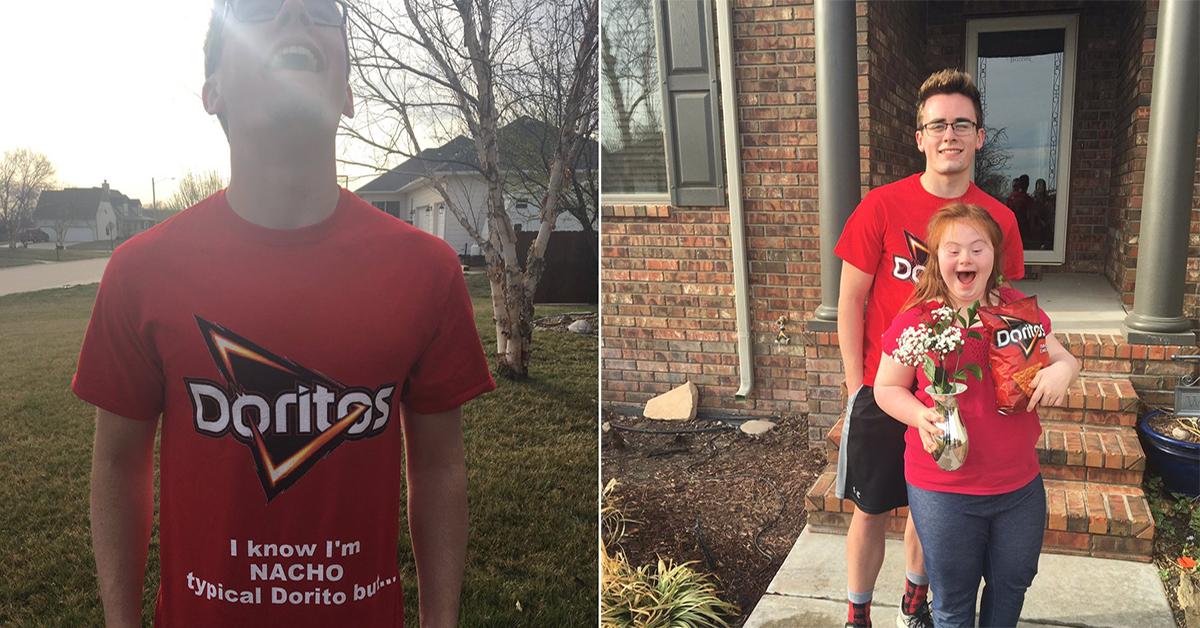 Teen Asks Best Friend's Sister To Prom Using Doritos, Melts Our Hearts
By Mark Pygas
Shaedon Wedel, an 18-year-old from Kansas, started his school year with a mission. He wanted to take his best friend's sister, Carlie Wittman, to the prom and make it as special as possible.
Wittman is a 15-year-old with Down syndrome who "wants to be a princess like Cinderella." So last week, Wedel pulled off his promposal and it was absolutely perfect. Why? Because it was Doritos themed.
His shirt read, "I know I'm NACHO typical Dorito but…I'm going to be cheesy and ask: will you go to prom with me?"
"I decided on the Doritos theme because I have known her for 7 years and there has not been a day that I have not seen her eat Doritos," Shaedon told Fox6. "She absolutely loves them!"
And just in case you needed a good cry, the promposal was recorded and posted to Facebook. Wittman is seen jumping up and down with excitement when she spots Wedel carrying a bouquet of flowers. When she realizes that he's asking her to prom, she starts to cry.
Weldel said that he's as close to Wittman's family as he is his own, adding they have been "kind and nurturing to him," so the moment was important for him.
"She says she wants to be a princess like Cinderella and it would mean everything to make her feel that way. I am very excited to go to prom with her on April 22," Carson told CBS News. "My main goal is to really give her everything she deserves. I want her to get that Cinderella Prom Dress and prom that she wants. She honestly deserves it so much."
Unsurprisingly, people love the whole thing.
As far as promposals go, this one is by far the cutest and most successful we've ever seen.