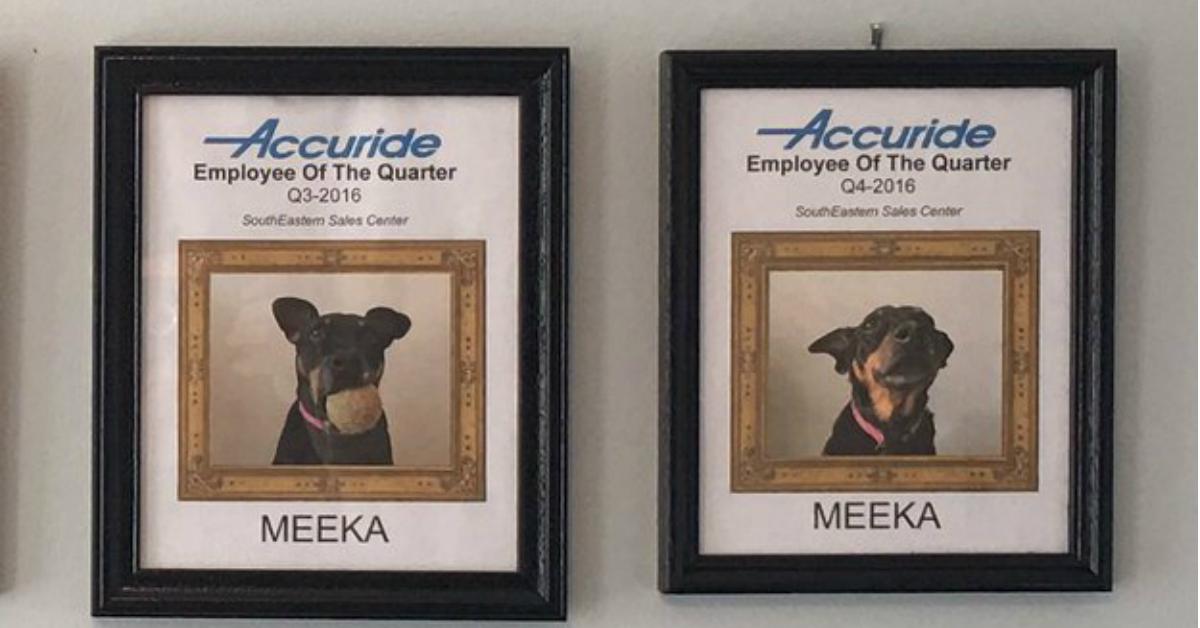 Hilarious Dog Wins 'Best Employee' Award Because His Owner Works From Home
By Mustafa Gatollari
Working from home has its perks. Your commuting time is however long it takes you to get to your laptop. Time spent having to do laundry is significantly reduced because it's not like you have to change your clothes or wear anything other than your pajamas. And lunchtime? The kitchen's your oyster. Even better? You don't have to worry about anyone stealing your lunch unless you've got some scumbag roommates.
The thing is, if you live for office chatter with actual people, it could get kinda lonely working from home.
Plus, there are all the little perks of office life you might miss. Like the silly little announcements and employee performance incentives. But, one telecommuter found a way to bring the traditional office experience into his own home.
By crowning his dog, Meeka, as the top employee every quarter.
Whenever Michael Reeg goes into his home office to clock in for his company, Accuride, Meeka's right beside him. Reeg said in an interview with The Dodo that although Meeka's a dog, she's still a valuable employee.
"There are times that I'll even talk to her as I work through a problem or map out a customer solution. I try out my sales pitches and presentations on her. She's not easily impressed or swayed. All she hears is 'blah, blah, blah, Meeka'—but she likes to hear my voice and I love that she pays attention. Having her in my office all day is something that we both look forward to."
Reeg's adorable photos of Meeka's plaques started getting attention on Twitter, which makes sense. I mean, she is a pretty accomplished dog.
She basically cleaned house for the entire year of 2016. Something tells me her streak will remain unbroken for all of this year, too. Maybe Reeg can steal the mantle before March is up - he's still got a few days of now.