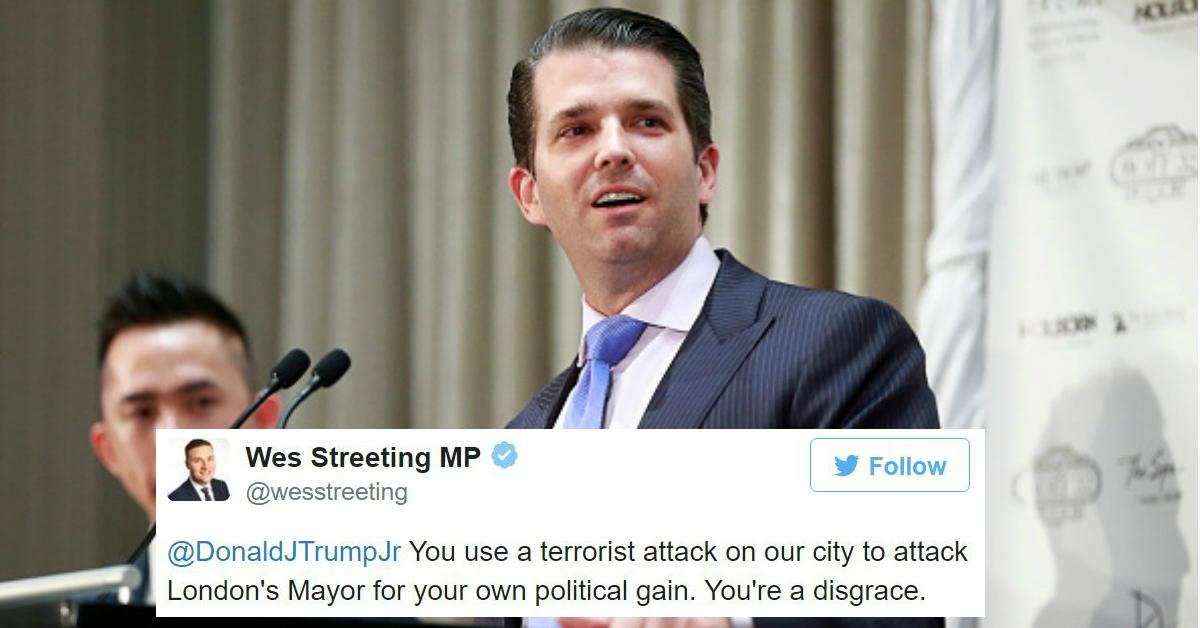 Donald Trump Jr. Tweeted About London's Terror Attack And Got Immediate Backlash
By Mustafa Gatollari
In New York, a white man, James Harris Jackson, traveled from Maryland and stabbed 66-year-old Timothy Caughman repeatedly until he died. Caughman was African-American, which, according to Jackson, was the reason he stabbed him. As Jackson told police, he traveled to New York to kill black men and make a statement.
Guess which story Donald Trump Jr. tweeted about?
Trump Jr. criticized London mayor Sadiq Khan, who took Khan's interview out of context saying that terror attacks were "part of living in a big city."
The interview Trump Jr. was referring to took place in September of 2016 and was not in response to the London attack. The quote from the interview was taken from a conversation Khan had with NYC Mayor Bill De Blasio after the bombing in Chelsea, New York, that ended up wounding 29 people.
"It is a reality I'm afraid that London, New York, other major cities around the world have got to be prepared for these sorts of things."
That means being vigilant, having a police force that is in touch with communities, it means the security services being ready, but also it means exchanging ideas and best practice."
Twitter didn't appreciate Trump Jr.'s obvious attempts at fomenting drama, and they responded, including English political figures.
Others wanted to know if Trump Jr. even knew when the interview he tweeted took place.
While some straight up accused him of trying to deceive people.
Some Londoners responses were pretty blunt.
Mayor Sadiq Khan's response to the terror attacks is that the city of London "will never be cowed by terrorism."
"I want to reassure all Londoners and all our visitors not to be alarmed. Our city remains one of the safest in the world. London is the greatest city in the world. And we stand together in the face of those who seek to harm us and destroy our way of life. We always have and we always will."
What do you think about the controversial tweet?