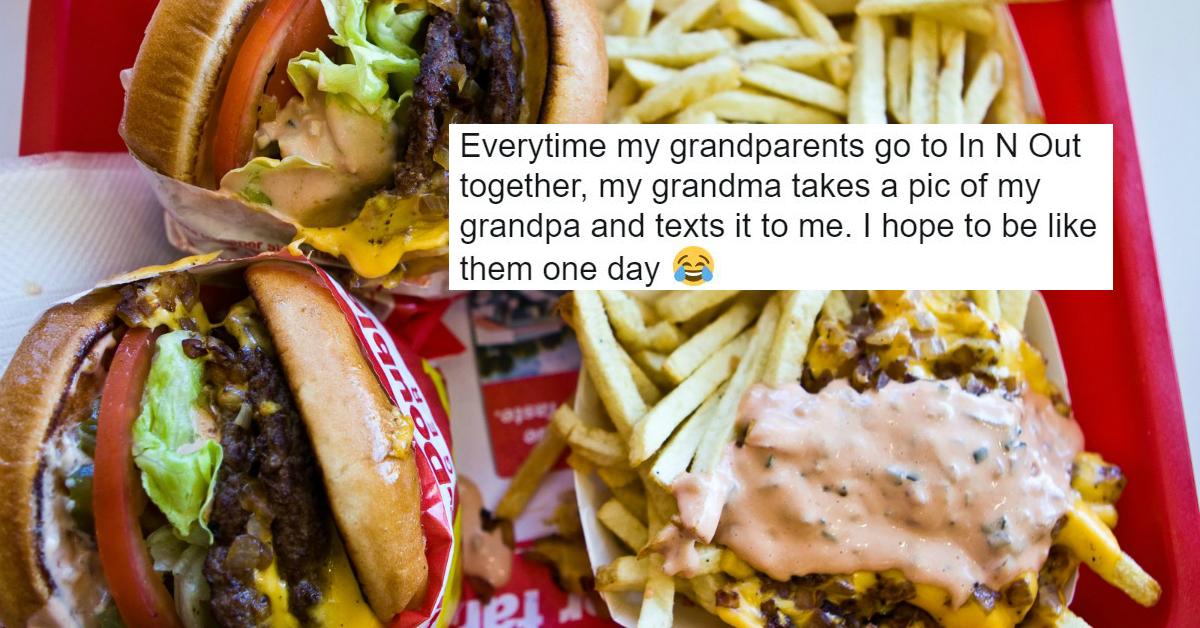 These Grandparents Are Obsessed With In-N-Out And We're Obsessed With Them
By Mustafa Gatollari
I love cheeseburgers. If caloric intake or health wasn't an issue, I could gladly eat a burger for every meal, every day, for the rest of my life.
Whenever I visit Los Angeles, just to give you an example, the only thing I eat while I'm there is the free hotel breakfast and In-N-Out. And if there's no free breakfast? Well, guess who is having a burger brunch with animal style fries? That's right: This guy.
The sheer joy I have before biting into a burger is something that can't be faked. There's a twinkle in my eyes that's there if you look really closely, even if I'm not smiling.
So I totally get this girl's adorable grandpa who sends her excited, pre-burger photographs everytime he visits In N Out.
"Everytime my grandparents go to In N Out together, my grandma takes a pic of my grandpa and texts it to me. I hope to be like them one day," the proud granddaughter captioned a collage of images featuring her grandfather on Twitter.
I mean just look at that smile, it's like he's showing off a Blue Ribbon dog or something.
Except it's a burger, and not a dog. And he's going to eat it.
Her Grandma has taken A LOT of photos of their trips to the burger chain.
As overused as the phrase may be, they are the very definition of relationship goals.
And Twitter agrees.
Some think they deserve free burgers for life, which would make me insanely jealous.
Others are just loving Grandpa's swag.
True love exists people.
Several months later, Heather — the duo's granddaughter — shared a photo that her grandfather took of her grandmother at the chain restaurant. "When grandma decides to switch things up," she wrote alongside the adorable image.
I hope to be this happy to get a burger with my spouse decades from now.