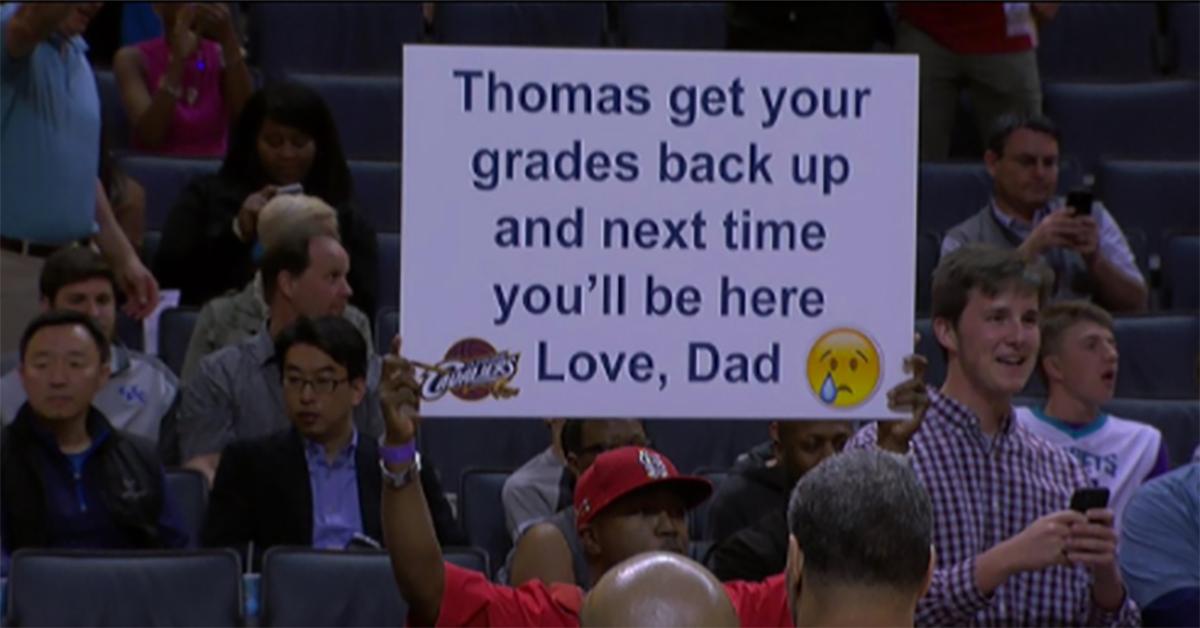 Dad Uses Sign At NBA Game To Teach Son An Important Lesson
By Mark Pygas
A father attending an NBA game between the Cleveland Cavaliers and Charlotte Hornets this past Friday used it as an opportunity to put his son on notice.
He scolded his son, Thomas, for letting his grades fall. It also appears that Thomas was supposed to attend the game with his father, but got his ticket taken away as punishment.
The clever pop wrote on the giant poster, "Thomas get your grades back up and next time you'll be here. Love, Dad." He then added a crying face emoji for good measure.
The unnamed man also appeared at a game in Houston on Sunday, with a new sign. This time he wrote, "Thomas can you hear me now? STUDENT then ATHLETE son. In that order. Love, Dad." A crying face emoji was also added to this one.
Some users on Twitter applauded the father for doing the most to get his son's grades up.
While others were on team Thomas.
Whichever side you're on, there's no denying that Thomas will probably try harder at school.
In an interview with the New York Post, Thomas' father, who wished to be identified as such, explained his reasoning behind the viral posters.
"I talk to my son every day, but I'm a parent of one of these millennial kids that's into social media, and it's just a completely different generation than what I was brought up in," the St. Louis-based parent shared. "I love him enough to reach him wherever it may be. So if [Hornets guard] Kemba Walker and LeBron James have his attention, I'll spend $5,000 to fly out to the game and get through to my son … I was just hoping that he would see me for a split second on TV."
We think it's safe to say, mission accomplished.