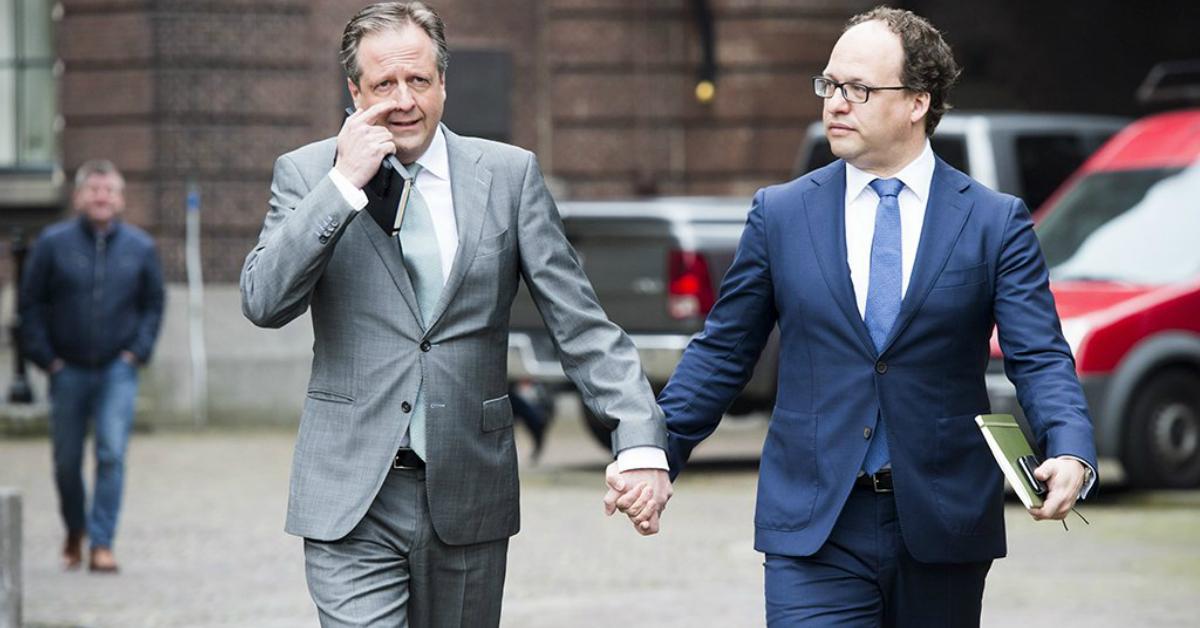 Dutch Men Are Holding Hands To Show Support For Brutalized Gay Couple
By Mustafa Gatollari
The road to equal rights for any group that's discriminated against is unfortunately one that's filled with violence, terror, and heartache.
And although these heinous acts perpetrated against specific groups can't ever really be stopped, we can control how we react to this violence.
It's easy to get bitter and violent towards those who harm someone based on their gender, race, ethnicity, religious beliefs, or sexual orientation. But oftentimes the most profound responses to such unabashed hatred are the moments when people opt to show love to victims.
Like how Dutch men all over the Netherlands are holding each other's hands in support of two gay men who were recently attacked.
A gang of men attacked Jasper Vernes-Sewratan and Ronnie Sewratan-Vernes as they walked together early one Sunday morning. One of the men was armed with a pair of bolt cutters, which they used in the attack.
Unfortunately, Ronnie and I also became a victim of a hate crime towards gays 😞, following the steps in anhem we are two of us to walk home provoked because we are more or less walking hand in hand (what we do Do it more often when we're alone or walk) but so were attacked by a group of marokannen with between the ages of 14 and 18 years. I have always said that we weren't crazy and wouldn't let us know and we did so. Unfortunately had to be one of the guys, so apparently a bolt cutters and after what swearing up and down, it was like pulling and pushing all of a sudden it became so escalated, and eventually even the place fully and did all those guys at the same time on us, before I 😞Knew it was Ronnie out of my neighborhood and I had 3 man on me. I fought me out out but suddenly heard Ronnie screaming that all his front teeth were knocked out by one of those moroccans with so those bolt cutters, I went after her and the rest of them ran away and eventually, all of a sudden I could run towards Ronnie and what shows; His upper lip is one laceration, and he is no less than 4 front teeth and partly a 5th tooth lost by the clapping, the lip is now in the hospital but the teeth are a bigger problem and need to be reset. So we're all going to cost a spoedtandarts.

What a nice date night was has become a nightmare what I personally catchy.

That this can still happen in 2017 is incomprehensible and hard to understand because in the end, we are just dutch in our own country, but it can't be like that, apparently, in terms of homosexuality 😞.
A hashtag began in support of the couple, #allemannenhandinhand, which originated from Dutch journalist Barbara Barend.
It translates to: "Can this whole week all men (straight and gay) please just walk hand in hand ..."
So men started doing exactly that, all around the world.
Men from all professions and walks of life started tweeting photos of themselves holding hands with other men in a touching show of solidarity for the couple.
Dutch soccer clubs even got in on the act.
As did Rotterdam's police force.
And members of the religious community.
The movement is gaining tons of momentum with more and more people across the Netherlands and all over the world showing their support for Ronnie and Jasper.
It's important to note that the Netherlands was the first country in the world to legalize same-sex marriage back in 2001. But as anyone who's taken two seconds to look at the progress of the Civil Rights Movement will tell you, widespread acceptance hasn't been achieved yet.
Philip Tijsma, public affairs manager for COC Nederland, says that LGBT rights in the Netherlands have a long way to go.
"While some may think of the Netherlands as some sort of 'gay paradise,' the truth is that the layer of acceptance in this country is thinner than many people think. About 7 in 10 LGBT people say they have been confronted with physical and/or verbal violence because of their identity," Tijsma said. "Plus, many LGBT students have a difficult time in high school, are bullied and see suicide rates that are almost five times higher than average."
"The fight for equality continues," CNN reported.