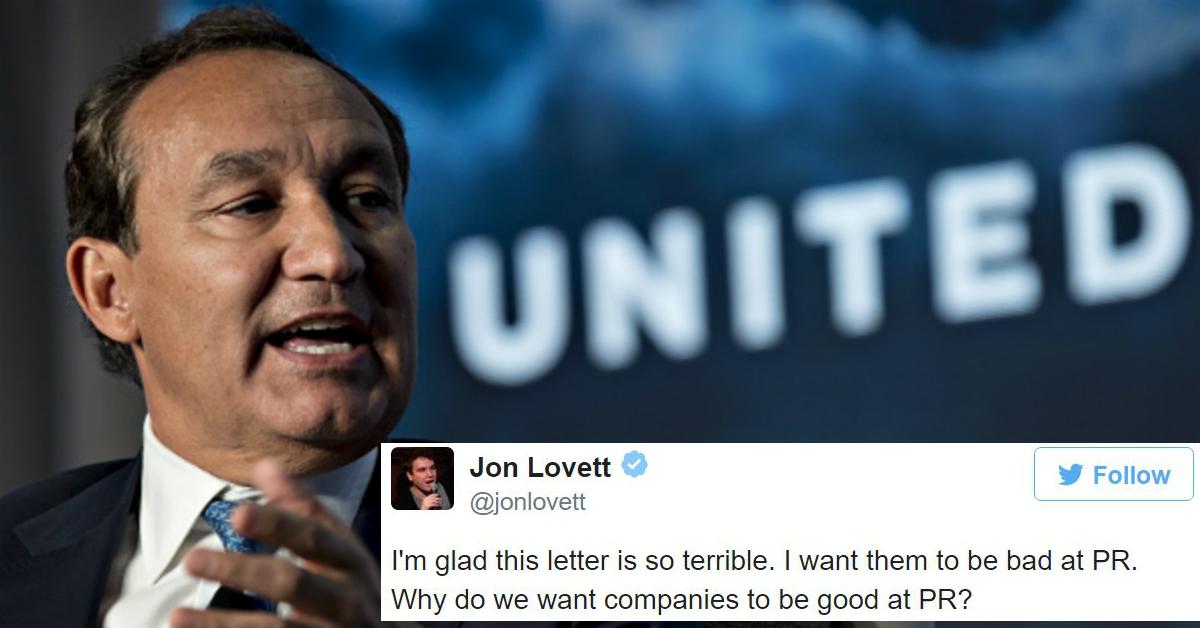 Letter From United CEO Calls Flier 'Belligerent,' Ignites Anger From Public
By Mustafa Gatollari

Updated
When it comes to damage control and putting out PR fires, corporations have to tread very lightly. When you're representing a global brand, any number of moves you make will be open to public scrutiny.
Now the thing is with forcibly dragging a doctor off of a flight, you're going to have some backlash. Namely, from human beings pretty much all around the world who aren't mean-spirited psychopaths. Hell, the doctor they dragged off the flight was Asian (he's a Vietnamese-American), and now people all over China are cutting their United travel cards in half and putting a ban on the airline. That's right, the airline might lose an entire country of fliers, a country with the world's largest population, because of their overbooking error and horrible way of handling it. And it's not like other people in other countries are excited about flying United anytime soon, either.
You'd think that after doing something so awful to one of its paying customers, a company would be groveling at out feet trying to make it up to its customers.
But the airline's CEO, Oscar Munoz, released an unapologetic letter to his staff calling passenger Dr. David Dao, a 69-year-old grandfather, "disruptive and belligerent."
His letter included some other hair-pulling language, like saying they asked him "politely" to leave his seat and "deplane," and that the crew was "left no choice but to call Chicago Aviation Security Officers to assist in removing the customer from the flight."
The worst part? He painted the airline's reaction to the debacle as a positive one and commended his staff for the way the situation was handled.
"Our employees followed established procedures for dealing with situations like this. While I deeply regret this situation arose, I also emphatically stand behind all of you, and I want to commend you for continuing to go above and beyond to ensure we fly right."
The Internet wasn't really happy with Munoz's tone deaf response.
This letter explains why that United fiasco happened. The CEO thinks it was justified. I wouldn't trust this company with my safety https://t.co/2D5k93dSiz

— Rusty Foster (@rustyk5) April 11, 2017
Many were calling Munoz's letter "victim-blaming," and it's hard to argue that it wasn't.
And it wouldn't be a Twitter thread without some memes.
What do you think about the CEO's response?