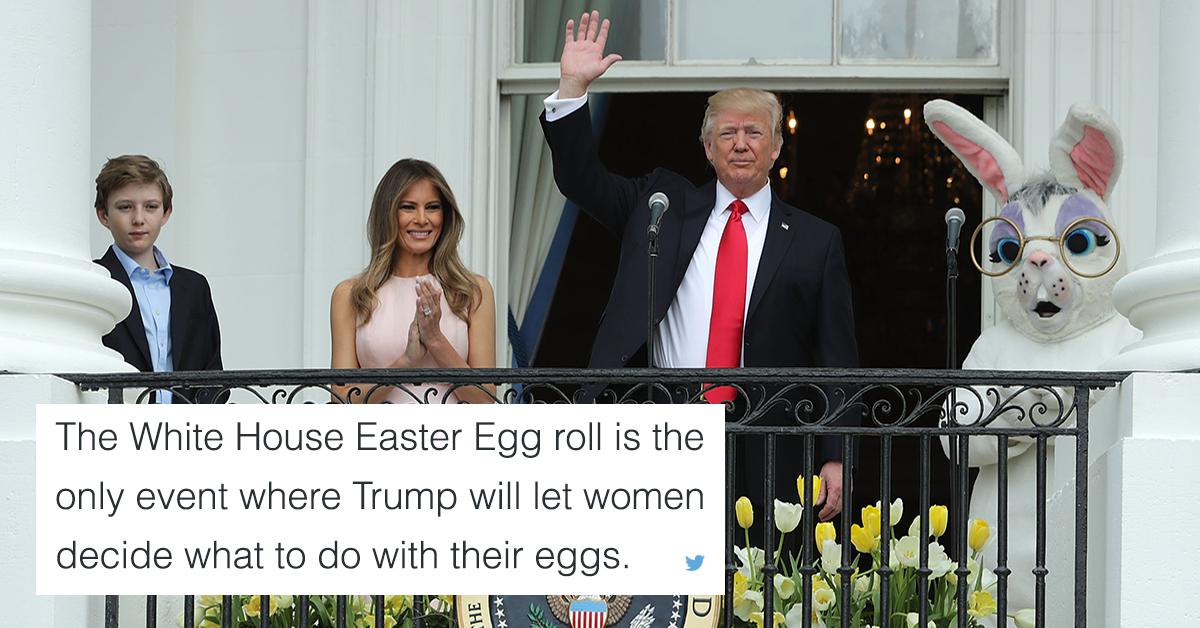 Twitter Is Not Impressed By Trump's First Easter Egg Roll In The White House
By Mark Pygas
The Annual Easter Egg Roll is a White House tradition that dates back 138 years and draws some 35,000 visitors to the South Lawn each year. Today is the first Easter Egg Roll since Donald Trump became President, and this led some people to have concerns about the running of the event.
Last week, the New York Times reported that President Donald Trump's administration seemingly forgot about the annual Easter Egg Roll and didn't put in an order for eggs for quite some time. The company that makes commemorative eggs for the event had to reach out to the President on Twitter to remind them to place their order.
So, how did it actually go? Judging by these tweets, not very well.
That poor bunny.
Donald John Trump is the 45th and current President of the United States. Before taking office on January 20, 2017, having beat opponent Hillary Clinton in the electoral college but not the popular vote, Trump was a real estate mogul, and a former reality TV star.
Born in Queens, New York, in 1971 Trump became involved in large, profitable building projects in Manhattan, under the guidance of his father, real estate developer Fred Trump.
In 1980, Donald Trump opened the Grand Hyatt New York, making him the city's best-known developer.
In 2004, Trump began starring in The Apprentice, a hit NBC reality series, and later in a spin-off series, The Celebrity Apprentice.
In 2015, Trump announced his candidacy for president of the United States running as a Republican. Trump win a majority of the primaries and caucuses, becoming the official Republican candidate for president on July 19, 2016. That same November, Trump was elected the 45th President of the United States, after defeating Democratic candidate Hillary Clinton.