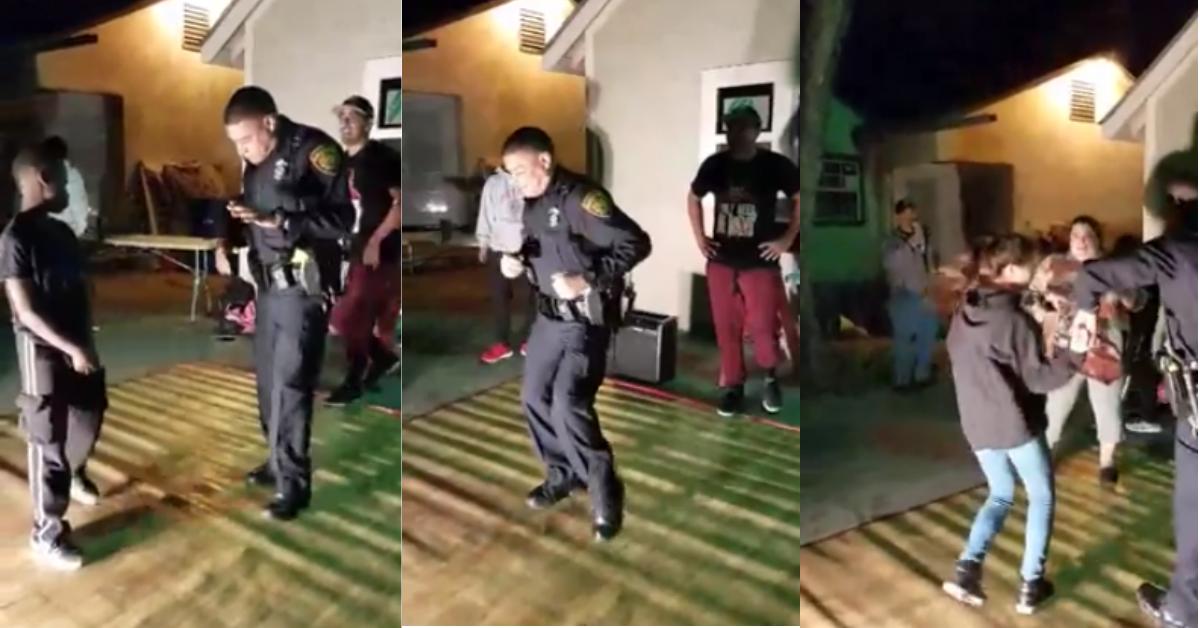 Cop Responds To Noise Complaint At Party By Teaching Kids How To Salsa
By Mustafa Gatollari

Updated
When cops show up to a party, they're usually not partaking in it. In fact it's probably one of the scariest things when a cop arrives at a party, typically it means it's over.
Your first reaction is probably to hide whatever contraband is in your home that shouldn't be there, and then turn down the music and try to look as respectable as possible.
You sit there and nod your head as the officer warns you about the noise complaints and then get prepared to put in as much partying as possible before the neighbors call the cops again and you're forced to shut down the party and end everyone's fun for the night.
But it doesn't always go down like that. There are some cops who are awesome, like this salsa-loving officer who decided to join in.
Leslie Sapp posted a video of the San Antonio cop who showed up to an event held by her kid's dance club: NXG Dance Crew. The kids were in the middle of a dance battle.
Instead of shutting down the event, the officer asked to play a song and then joined in on the fun.
He even got Sapp's daughter involved in the fun and taught the kids in attendance how to salsa. 
"As a parent, especially these days, there is a lot of negativity in the world when it comes to cops, and he broke that stereotype. He didn't have to take his time to do that and could have just (gone) in and shut it down," Sapp said.
Sapp's daughter said that the officer's positive attitude changed her perception of local law enforcement.
The video quickly spread on Facebook, with tons of commenters giving props to the officer.
What a cool cop. (h/t ksat)