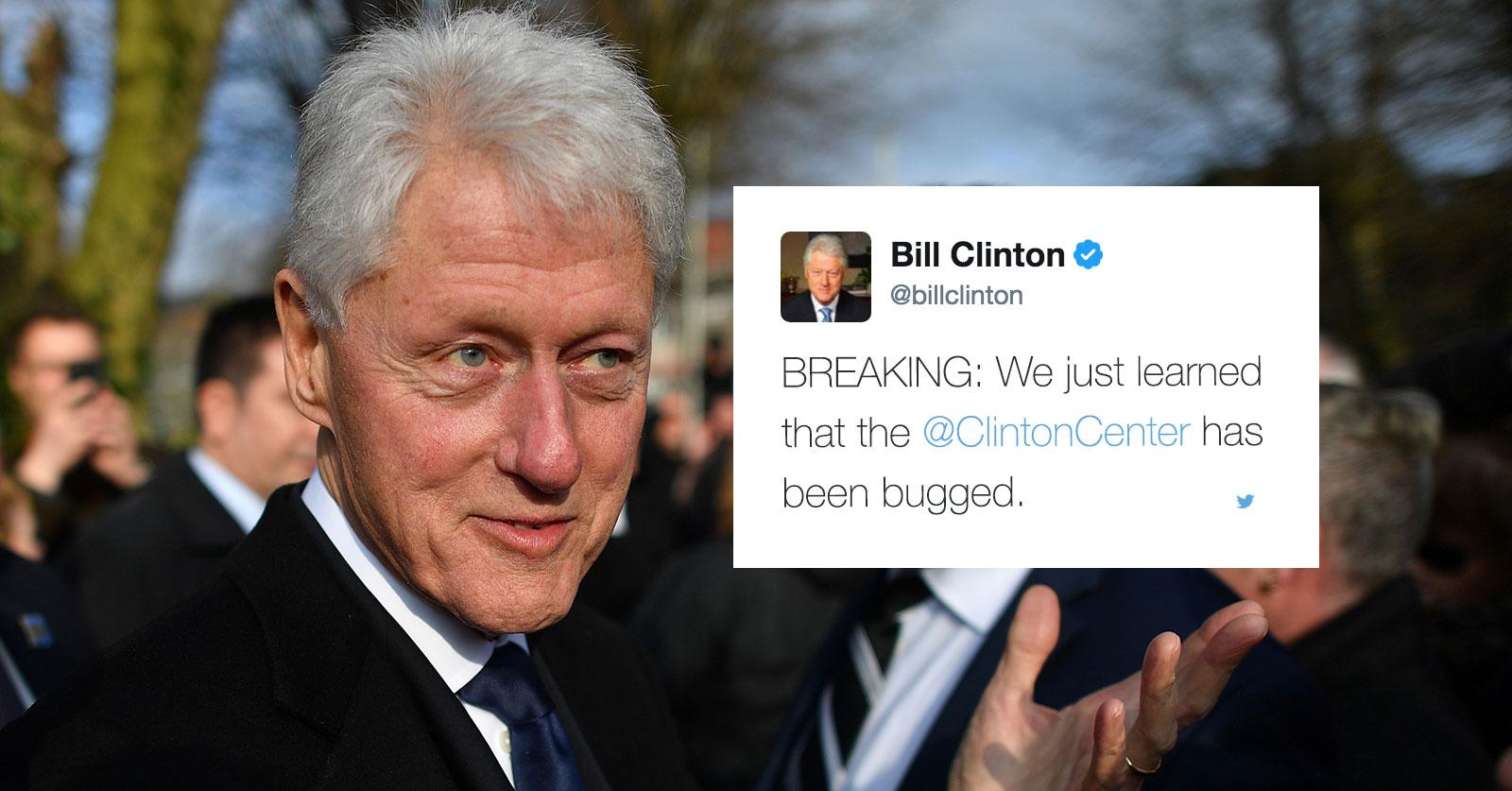 Bill Clinton Trolls Donald Trump With Hilarious Tweet About Bugging Claims
By Mark Pygas
Back in March, Donald Trump claimed in a series of tweets that then-President Barack Obama was wire-tapping Trump Tower during the election. They weren't backed up by any evidence, and House Intelligence Committee Chairman Devin Nunes has since said that the information he has viewed didn't back up Trump's claim.
James Clapper, Obama's Director of National Intelligence, as well as FBI Director James Comey and National Security Agency chief Admiral Mike Rogers, also all rejected the accusation.
And on Sunday, former President Bill Clinton decided to make fun of the accusations by tweeting this photo of himself...
Twitter was pretty impressed by the burn.
If you're wondering why Bill Clinton is next to a giant grasshopper, it's because the Clinton Center in Little Rock, Arkansas, is currently having an 'Xtreme Bugs' exhibit.
Donald John Trump is the 45th and current President of the United States. Before taking office on January 20, 2017, having beat opponent Hillary Clinton in the electoral college but not the popular vote, Trump was a real estate mogul, and a former reality TV star.
Born in Queens, New York, in 1971 Trump became involved in large, profitable building projects in Manhattan, under the guidance of his father, real estate developer Fred Trump.
In 1980, Donald Trump opened the Grand Hyatt New York, making him the city's best-known developer.
In 2004, Trump began starring in The Apprentice, a hit NBC reality series, and later in a spin-off series, The Celebrity Apprentice.
In 2015, Trump announced his candidacy for president of the United States running as a Republican. Trump win a majority of the primaries and caucuses, becoming the official Republican candidate for president on July 19, 2016. That same November, Trump was elected the 45th President of the United States, after defeating Democratic candidate Hillary Clinton.