Neighbors Came Up With Perfect Response After Finding Cross Chained On Gay Street
Neighbors have a fitting response to finding crosses chained to fences on Gay Street in New York City.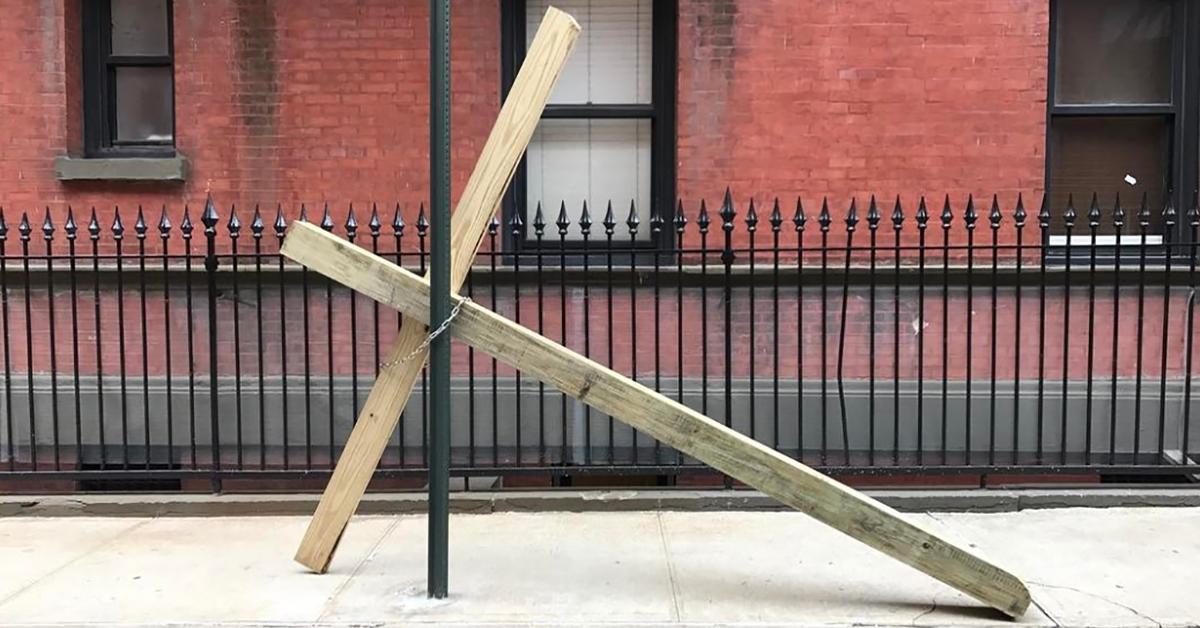 According to Micah Latter, who lives on Gay Street in New York City, someone has been chaining a massive wooden cross to various fences around her neighborhood since Good Friday. It's fairly safe to say that whoever is responsible is trying to make a statement, which is odd considering that the street was named in 1833, when the word 'gay' had a much different meaning.
Article continues below advertisement
Latter explains on Instagram that the cross first showed up chained and locked to her apartment gate, and that the owner kept moving it around every few days. So this weekend, Latter's neighborhood banded together to make sure whoever is moving the cross gets a surprise when they next pay a visit.
They turned it into a "love cross" by painting it in the rainbow colors of the pride flag.
Article continues below advertisement
The result was pretty spectacular.
Article continues below advertisement
Latter explained her reasoning for painting the cross to Popsugar:
Article continues below advertisement
"As a Christian, the cross is a sign of love, peace, and hope and it was clear the mysterious owner of the cross was not sharing those same values. It was unsettling that the owner's intentions were not sincere."
A friend suggested to Latter that she should celebrate the cross rather than letting it get to her. So on Saturday, she texted equally frustrated neighbors with her plan: "We're rainbow painting the cross. I'll bring paint and Champagne for anyone that can make it."
Article continues below advertisement
Latter estimates that more than 50 people showed up, and it wasn't just neighbors.
"My favorite part of the event were locals sharing the experience with strangers. We had two tourists from Brazil stay for the entire painting; we had kids skateboarding by stop to paint; we had many straight couples, gay couples, and a transgender couple all sit, paint, talk, and stand in the street sharing stories. It was a magical NYC moment."
Latter also added her own locks, so that the owner can't remove the cross. "It belongs to the street now," Latter told Popsugar.