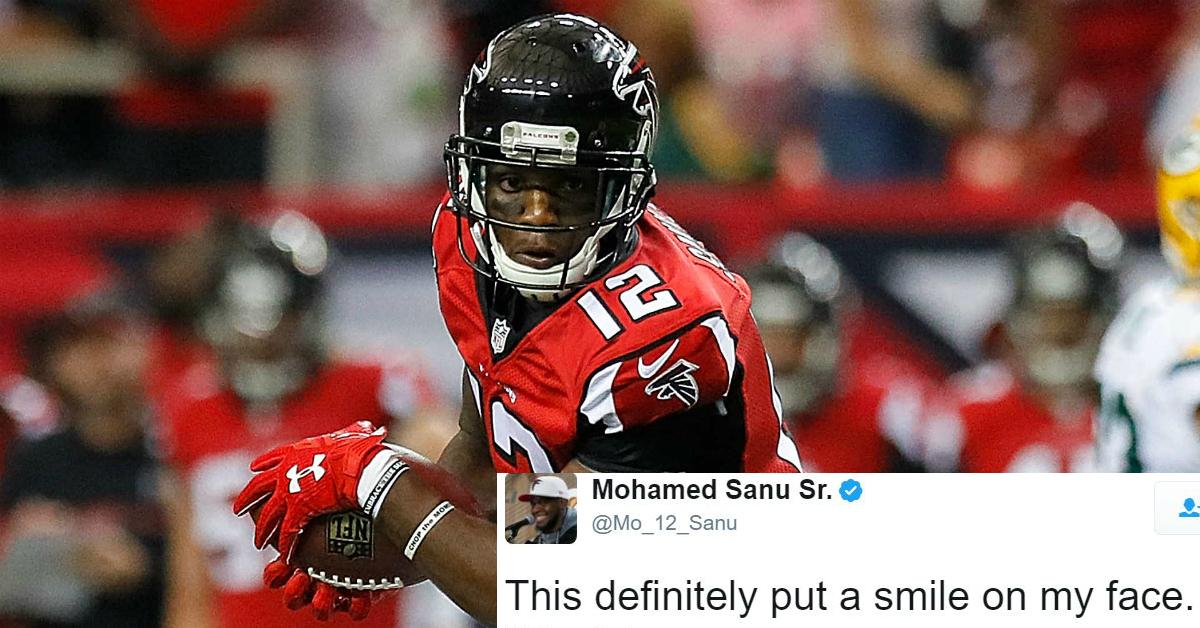 Mom's Note To NFL Player During Flight Goes Viral For The Right Reason
By Mustafa Gatollari
When I was a kid, my heroes meant everything to me. I thought Clint Eastwood was the coolest man on the planet so I'd sneak away to the bathroom and smoke cigarettes. When I learned that the actor, in fact, didn't smoke cigarettes, but his characters did, I kicked the habit immediately.
If I found out an actor had a certain method or way of working, I'd try to copy that in whatever school production I was apart of. When Arnold Schwarzenegger talked about the importance of cardio in his Encyclopedia of Bodybuilding, I made sure that I'd get some in after every lifting session. Now, if only I followed his diet advice...
But anyway, the people we look up to usually have a huge impact on us, and there are few things more disappointing than finding out the people we idolized are actually closet losers.
But for a mother and son sitting right behind Atlanta Falcons wide receiver Mohamed Sanu, the player lived up to the hype...and then some.
The athlete sat in his seat, studied his playbook, had a banana and cranberry-apple juice, and was polite to everyone on board. Nothing out of the ordinary. But when you're a high-profile NFL star and people recognize you, they recognize everything you do, too.
As he disembarked, the mother sitting behind him handed him a note and asked him to "read it later." Sanu posted the letter to Twitter, saying it put a smile on his face.
Hi!
You don't know us. But we wanted to say thank you.
Our son sat behind you on this flight and watched you. He saw you studying your plays, watched you make healthy choices with your snacks, food and drink. He watched how polite you were to everyone.
He is only 10 but just made an elite hockey team and we are on our way to training in CT. You are an inspiration to children and for that you should be proud!
Thank you and best of luck!
-The family that sat behind you :)
Setting a good example when you think no one's watching is the true test of character because you're doing it for yourself and not for applause. It clearly made an impression on this woman's 10-year-old son. Awesome, right?