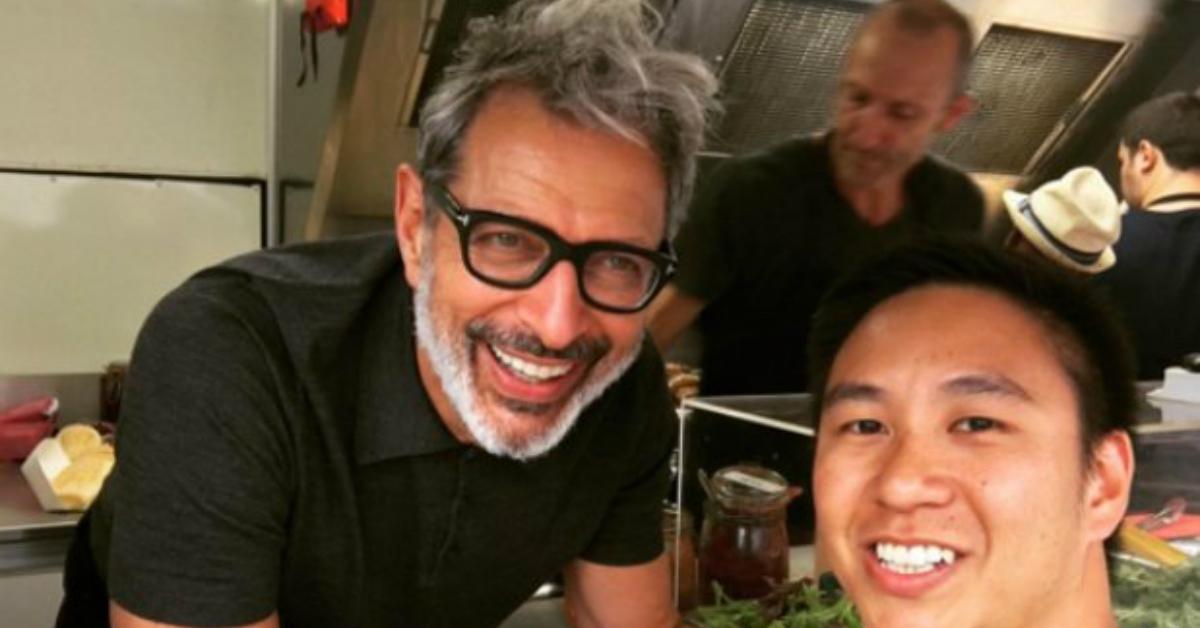 Jeff Goldblum Set Up A Food Truck To Hand Out Free Sausages And People Are Obsessed
By Mustafa Gatollari

Updated
But it mostly has to do with the fact that in all of his roles, he seems to play the guy who always knows better. Always one step ahead of the other guys, always the person who has a problem with something and is ready to say, "I told you so." And he does it perfectly, because the guy's super intelligent.
Mostly when I enjoy his performances, I don't think about any of that, because there's no way I'm going to out-think the always pensive Goldblum.
So I'm not going to try and understand why the man handed out free sausages in Sydney, Australia.
Yes, that's right, the Jurassic Park star was just doling out free sausages to people in Sydney from his own food truck titled "Chef Goldblum's Jazzy Snags."
He's just chatting it up with fans who enjoyed their free sausages and time spent with one of the coolest actors ever.
So Jeff Goldblum celebrates his Jurassic comback by working food trucks in Sydney, Australia. Those UK set photos will have to wait. pic.twitter.com/5IKEnGMwPf

— Reel News Hawaii (@reelnewshawaii) April 26, 2017
Chris Pratt and Bryce Dallas Howard are returning to the movie, too. Will Jeff be responsible for on-set catering, giving delicious sausage sandwiches to the cast and crew, while reprising his role as Dr. Ian Malcolm?
Jeff Goldblum being confirmed for Jurassic World 2 not enough? How about him handing out Sausages in Sydney's Wynyard Park right now? https://t.co/PfGUMmcu6Y

— Geek Society (@geeksocietyau) April 26, 2017
People were understandably excited about the wonderfully random event.
Jeff Goldblum is in Sydney handing out free sausages from a food truck. Only in Australia would something like this happen.

— Sam Robinson (@samsquareeyes) April 26, 2017
Currently on the hunt for Jeff Goldblum in Sydney

— Dean Nye (@Dean_Nye) April 26, 2017
Others desperately tried to find Chef Goldblum and his delicious sausages.
Just ran like a madwoman through the streets of Sydney trying to find Jeff Goldblum's pop-up food truck. I have failed. #chefgoldblum

— Ashley Spencer (@AshleyySpencer) April 26, 2017
Others lamented that they weren't present to witness such a fantastic event.
jeff goldblum serving free sausages is literally hitting upon every single one of my fantasies so why the hell does sydney get all the fun??

— Cristina Splazlooper (@GreenCristina) April 26, 2017
WAIT JEFF GOLDBLUM WAS HANDING OUT FREE SNAGS IN SYDNEY I WANT TO CRY WHY WASN'T I THERE

— katee (@sakurapuff) April 26, 2017
Hopefully this becomes a recurring thing the actor does. Jeff, if you're planning on coming to NYC, I've got a better recommendation: an awesome Northern New Jersey town that'll be way more chill. So what if I happen to live there? That's purely a coincidence.