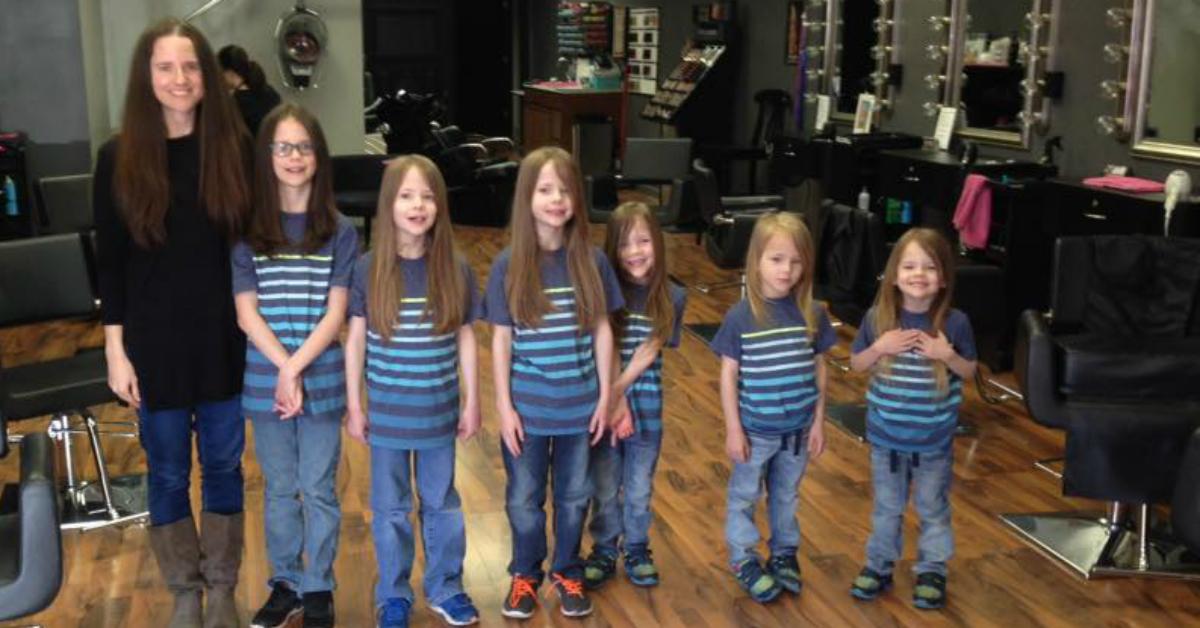 This Mom And Her 6 Sons Grew Their Hair Out To Donate To Kids In Need
By Mustafa Gatollari
We all get the urge to get up off our butts and do something to help those who are less fortunate. But Phoebe Kannisto and her six sons proved that sometimes not doing something can make as much of an impact to the needy.
All the seven of them had to do was not cut their hair for two years, which ended up yielding quite a follicular mass for them to donate.
Kannisto wrote about her and her boys finally chopping off their hair at Hizair Hair Salon:
Today my SIX SONS and I donated our hair to Children With Hair Loss. A grand total of 17 feet of hair donated! I am so proud of my boys. They have been picked on and teased by everyone from their peers, to grown adults. . but they didn't let that stop them. They had a goal and stuck to it. They are such amazing role models to their little sister. She watched in awe.
A very special thank you to Hizair Hair Salon in North Tonawanda for making this donation possible. Thank you, Sue, Tammy and Chrissy for taking the time after hours to help our family accomplish this goal. #hairdonation#mysixsonsandme #singleton #identicaltwins #fraternaltriplets#hizairhairsalon #buffalove
For Kannisto and her family, the cause hits close to home.
In an interview with The Huffington Post, Kannisto said that she was inspired to donate her hair after a close family friend lost her son to cancer.
"Three years ago, my friend lost her son to cancer. He was a twin and very close in age to my twins. On the first anniversary of his passing, my three oldest boys donated their hair in his memory. Since their donation two years ago, our lives have continued to be touched by cancer. It's everywhere. My boys want to help, and donating their hair is how they do it."
Once everyone in the family's hair reached the minimum donation length, they all went to the salon to get haircuts. Her sons even wore matching outfits.
"Obviously, everyone's hair grows at different rates. So it took quite some time for everyone to be ready," Kannisto said.
Kannisto says that her and the boys are already planning their next donation date and intend to grow their hair out for another two years or so to do it all over again.
Hizair Hair Salon also refused to accept payment for the haircuts.
"They insisted on donating their time since we were donating our hair," Kannisto said.
Growing their hair out proved to come with its own set of challenges for Kannisto's sons, aside from looking like Swedish death metal fans.
They were teased for growing their hair out, one son more than the others. Kannisto confesses there were "many tear-filled conversations" between her and her boy. Even when he tried explaining why he was growing his hair out, some of the other kids didn't understand and continued teasing him anyway.
Kannisto says that she's proud her sons were able to develop a "thick skin" and ignore the criticism.
She added that she was "so proud" of her children and that their desire to help other kids in need outweighs the hurt they feel when their peers crack jokes about their long and luxurious locks. Besides, what kinda monster makes fun of someone for growing their hair out to help out kids with cancer? (h/t huffpost)