Colin Kaepernick Donates Custom Suits To NYC Parolees Looking For Jobs
Former Quaterback Colin Kaepernick is donating suits to NYC parolees to help them get good jobs.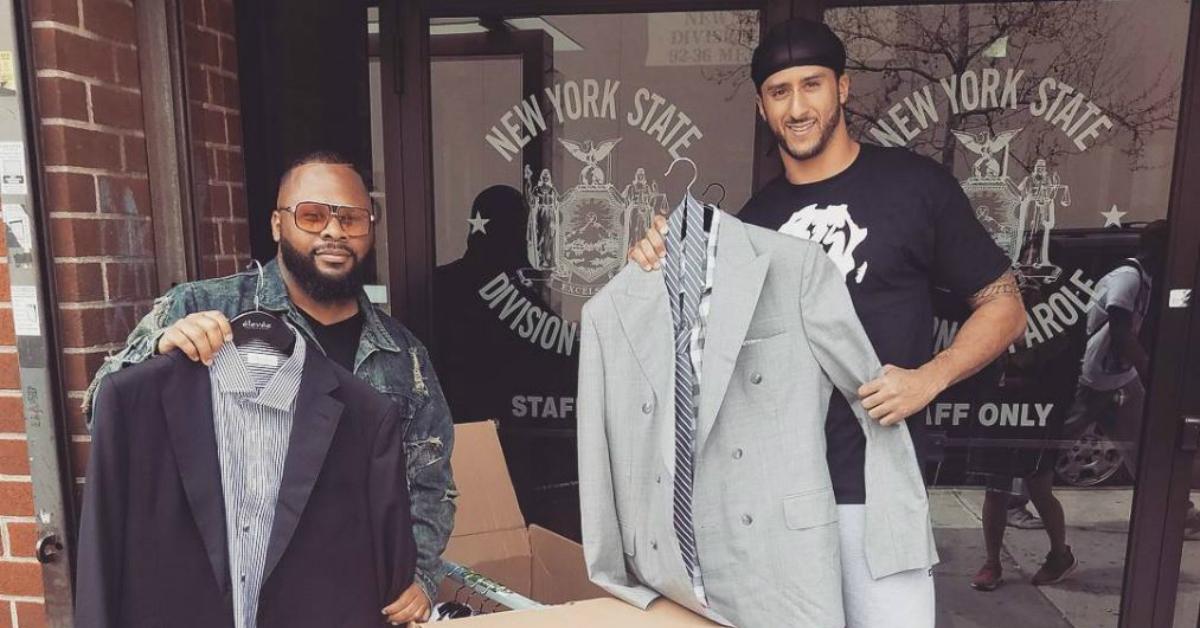 Colin Kaepernick upset a lot of people with his silent protest against the violence against black men committed by police officers. Ever since he took a knee during the national anthem, he's been called disrespectful, disgraceful, and unpatriotic.
Article continues below advertisement
Despite all of the hate he received, a quick look into the quarterback's personal life reveals that he's a pretty darn good individual. For example, the man's donating $1 million to charities and is an outspoken advocate for underprivileged youth.
What's even more impressive is that Kaepernick is donating a lot of his time and money to helping others, despite still being a free agent in the NFL.
Article continues below advertisement
And his most recent act of generosity is getting tons of headlines.
Article continues below advertisement
Kaepernick stopped by a Queens, NY parole office to benefit 100 Suits, a community-based organization that provides free suits to people on parole.
The in-house tailors at 100 Suits will alter Kaepernick's two huge boxes full of custom suits to help those in need get back on their feet and look presentable for job interviews.
Article continues below advertisement
By being able to wear appropriate suits to their interviews, these men and women are better equipped to achieve gainful employment, which will ultimately help them to transition into mainstream society and live more productive lives. Through this program, we also provide free hair cuts for men and wig referrals for women, where needed.
Article continues below advertisement
The Undefeated has been chronicling Kaepernick's tour of generosity, keeping a running list of all the charitable contributions the quarterback's been making.
In October, Kaepernick dished out gifts of $25,000 each to the Silicon Valley De-Bug, Causa Justa/Just Cause, Urban Underground and Mothers Against Police Brutality. In November, in addition to his gift of $25,000 to the BYP100, he donated equal amounts to Gathering For Justice/ Justice League, Communities United for Police Reform and the I Will Not Die Young Campaign.
Article continues below advertisement
The football player has also given $50,000 to Meals on Wheels shortly after the Trump administration pulled funding from the program.
He even helped fund an airplane trip that helped to send life-saving supplies to Somalia during a terrible drought. So people might think he's selfish for taking a knee during the national anthem, but his actions outside of that clearly prove otherwise.