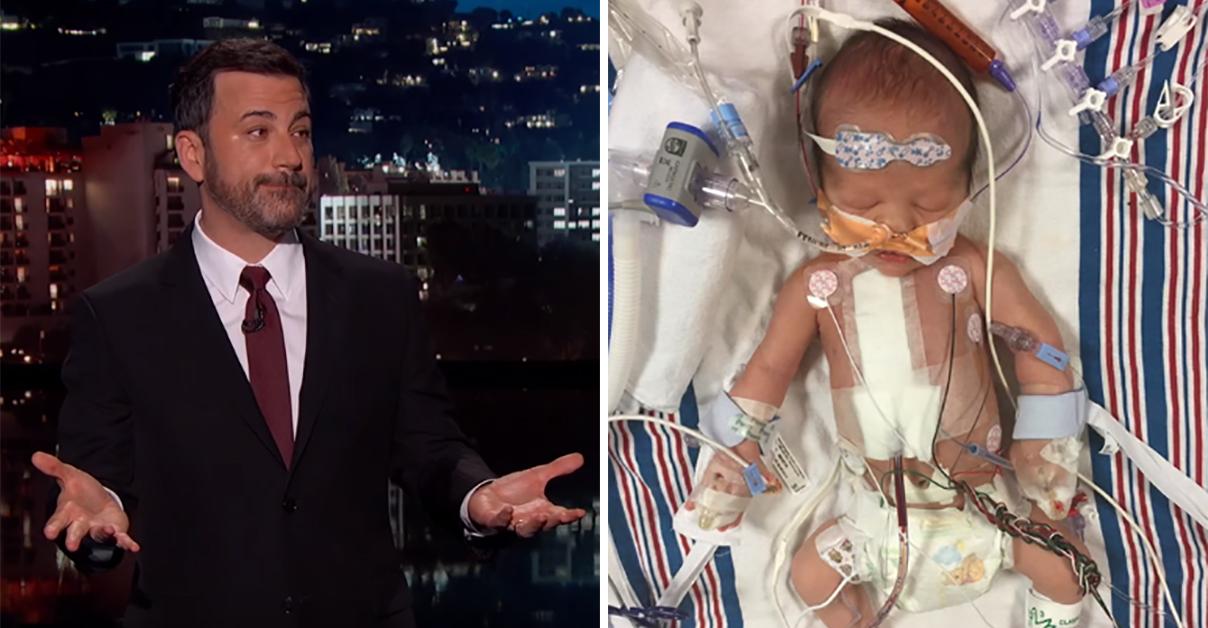 Jimmy Kimmel Defends Obamacare In Emotional Monologue About Son's Health
By Mark Pygas
Jimmy Kimmel opened Monday night's episode of Jimmy Kimmel Live by explaining why he'd been absent from the show the week before. The host revealed that his wife, Molly, had given birth to their second child, William "Billy" Kimmel, on April 21st.
But while the labor went well, a nurse suspected that the newborn had a heart murmur, and within a few hours, her suspicions were confirmed when Billy turned purple. Kimmel explained: "Billy was born with a heart disease... the pulmonary valve was completely blocked and he has a hole in the wall between the left and right sides of his heart."
Kimmel revealed that Billy underwent successful open heart surgery just three days later at Children's Hospital Los Angeles. "The operation was a success. It was the longest three hours of my life," he added. Kimmel said that Billy will still need another surgery in "three to six months to close the holes." And as a teenager, Billy will need a faulty valve replaced.
"Six days after open heart surgery we got to bring him home," Kimmel said. "He's eating, he's sleeping, he peed on his mother today while she was changing his diaper."
After thanking every member of staff by name, Kimmel pleaded with viewers to donate to the facility and scolded President Donald Trump for his proposal to cut funding to the National Institute of Health. The proposal was shut down on Sunday, when Congress voted to give the agency an additional $2 billion in funding.
Kimmel then defended the Affordable Care Act, dubbed Obamacare, saying that it's allowed children like Billy to receive treatment for pre-existing conditions, when they may have been denied by insurance prior to 2014.
"We were brought up to believe that we live in the greatest country in the world. But until a few years ago, millions and millions of us had no access to health insurance at all," he said.
"If your baby is going to die and it doesn't have to, it shouldn't matter how much money you make. I think that's something that, whether you're a Republican, or a Democrat, we all agree on that, right?"
You can watch the entire emotional segment below.
Fair warning: You'll probably need tissues.