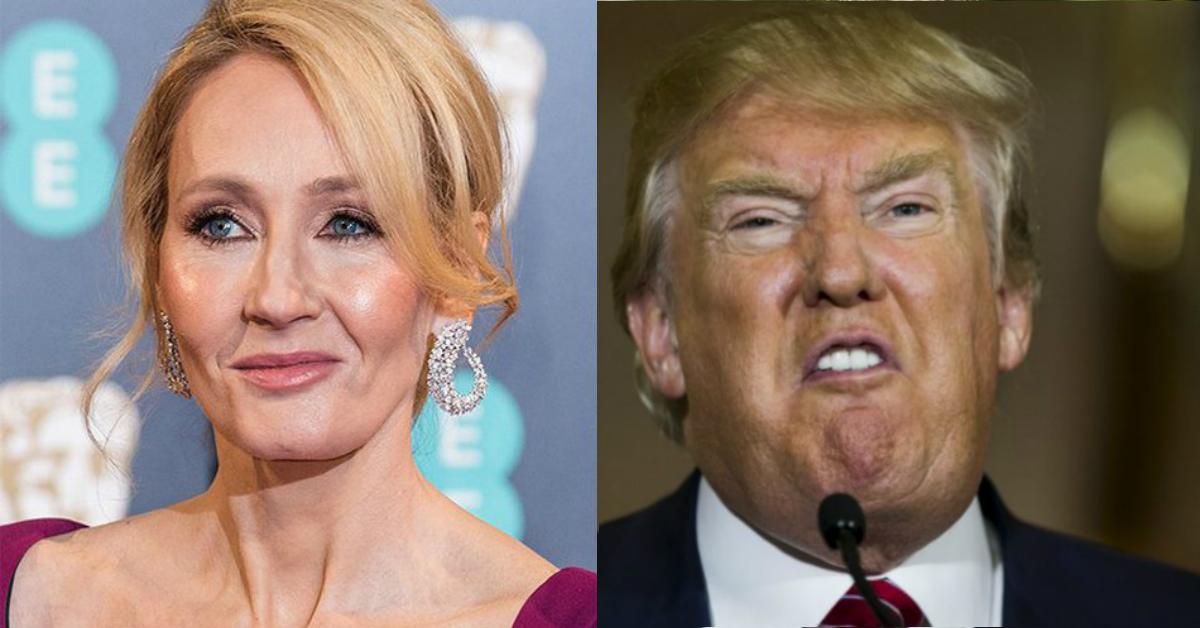 J.K. Rowling's Back To Her Trump-Roasting Ways With These Two Brutal Tweets
By Mustafa Gatollari
There are few authors who rule Twitter like J.K. Rowling does. The Harry Potter creator doesn't shy away from sharing her opinions. Whether it's giving encouraging words to fans, or getting Piers Morgan's son to side with her over his own father, she always speaks her mind about issues. It may be off putting to some but her political wit is unmatched among most and doesn't shy away from responding to harsh criticisms and routinely will engage fans who disagree with some of her stances.
Rowling's also been extremely vocal about her distaste for Donald Trump, comparing him to Voldemort and pointing out his disgusting, fear-mongering ways, usually when he puts out a particularly cringe-inducing tweet. It's truthfully a fairly accurate representation of the current United States of America President who routinely riles the masses with his dangerous comments, specifically the ones that are directed towards the media.
So when the Donald released a statement about his involvement with Russia, you best believe Rowling was going to respond to it. It was just too good of an opportunity not to engage because it's laughable how shallow the President's defense of himself has been. Especially considering if he's innocent like he says, he probably wouldn't be so dang worried about being investigated, right?
Here's the tweet in question:
If you ask me, Trump's gone full deluded NFL player, talking about himself in the third person. Better yet -- it seems he's still acting like a WWE wrestler because no one sane actually speaks in the 3rd person. Especially not a President.
Something that the English author saw as the perfect opportunity to roast the President over.
Which started a conversation on made-up Trump words. ("Bigly" not included).
Others pointed out the conversations that Trump almost certainly has with himself.
Yeah, that seems about right.