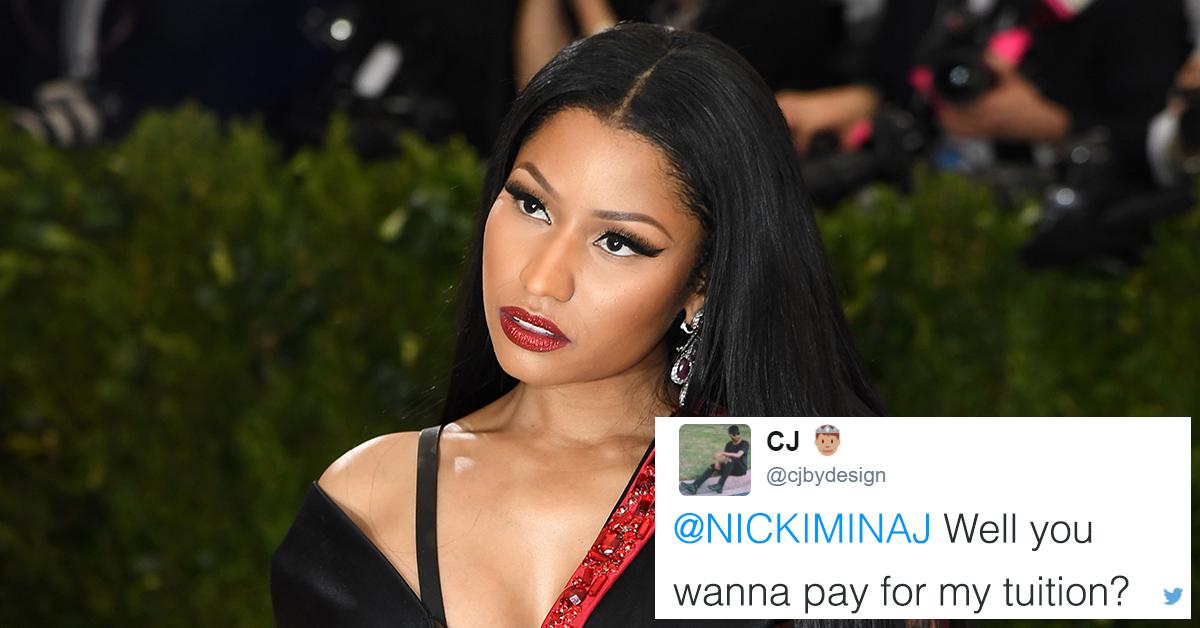 Nicki Minaj Will Pay For Fans' College Tuition If They Meet One Condition
By Mark Pygas
Nicki Minaj is rolling in money. So much so that she's currently holding a competition for fans to lip-sync along to one of her songs, with her favorites being picked to fly to Los Angeles and hang out with her for being the best. She's notorious for just being an overall really cool person who gives as much as she contributes to society.
But after the announcement of the competition, one person decided to be cheeky and see if Minaj would pay off their tuition for college. They got a little bit of a surprising response from the hip hop queen:
Which Minaj quickly offered to do for anyone, as long as they have straight A's. A pretty awesome gesture to award some students who were working hard at getting educated.
And yes, we mean everyone.
She offered to send this fan $1,000 to help pay for their summer classes.
She did this all Saturday evening.
By the end, she'd promised money to around 30 students. Pretty amazing because she's about to make a lot of really happy students dreams come true. Especially considering how college debt is so crippling for some that they never get out from underneath it. It's nice to see her doing good work for people.
But if you missed your opportunity, she'll be helping out again in a month or two. So don't give up hope on snagging your chance. Just keep an eye out for her next announcement.
I could have really used this when I was a poor student. It's a nice gesture from Nicki and we'd love to see more people of influence getting involved into awesome gestures like this -- college being so expensive it's nice to see people pay it forward.