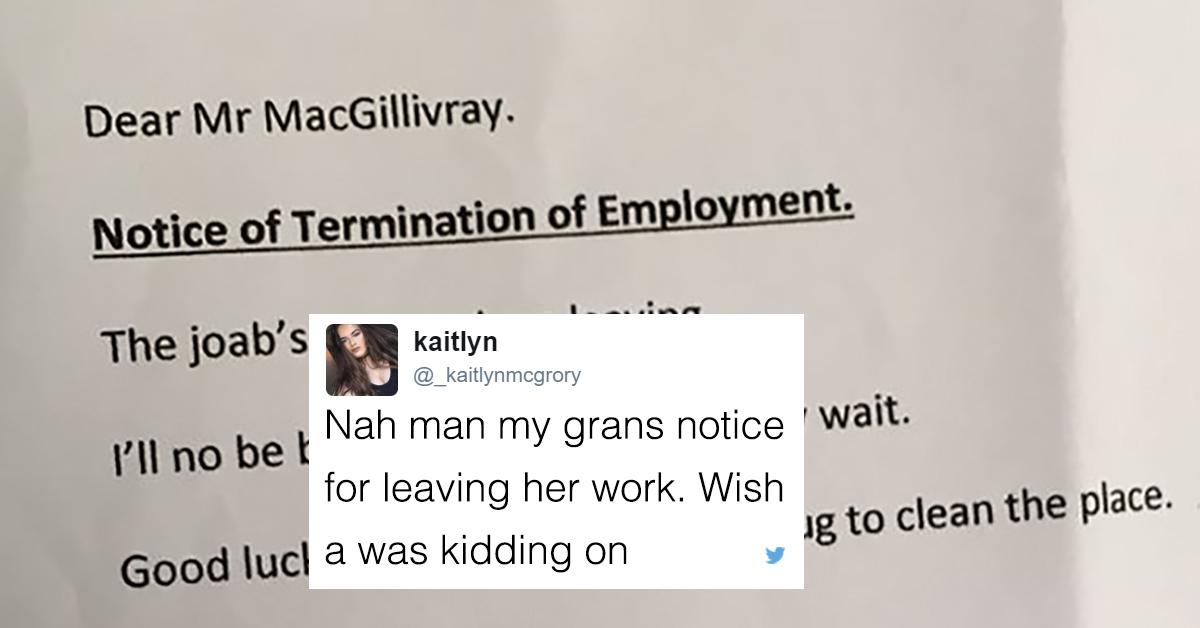 Everyone Is In Love With This Scottish Grandma's Resignation Letter
By Mark Pygas
People have come up with some pretty inventive ways to either get fired or quit their job in the past. We've all worked a job that we hated at one point or another, and the majority of us probably stayed in it a lot longer than we wanted to. Maybe you've been in a situation where you tried being upbeat about a job or maybe you even broke your back to please a boss or employer who never gave you the recognition you deserved. If you've had a terrible job, or you're just not a fan of what you're doing right now, you've probably fantasized about telling your boss what's what and just walking out the door. Unfortunately, we all have bills to pay, so for the majority of us, that will most likely remain a daydream.
But Twitter user Kaitlyn McGrory from Glasgow, Scotland, recently shared a letter of resignation that takes the biscuit. Her grandmother decided to be very honest to the company she cleans for, and it should serve as inspiration to you all who have just gritted your teeth and stuck with it. You don't have to put up with your crappy job. So you start to fantasize about ways to quit, just let her be your guide to walking out:
People understandably loved the honesty. It's rare that you find someone willing to go all in on a resignation letter, especially someone who probably could just walk out and not say a word and be content. It's a rare trait to find a bad ass granny who's willing to do this.
If you don't like your job, consider taking a cue from Kaitlyn's grandma. Yee ha. She's got the right idea. We dare you to pull off her awesomeness.