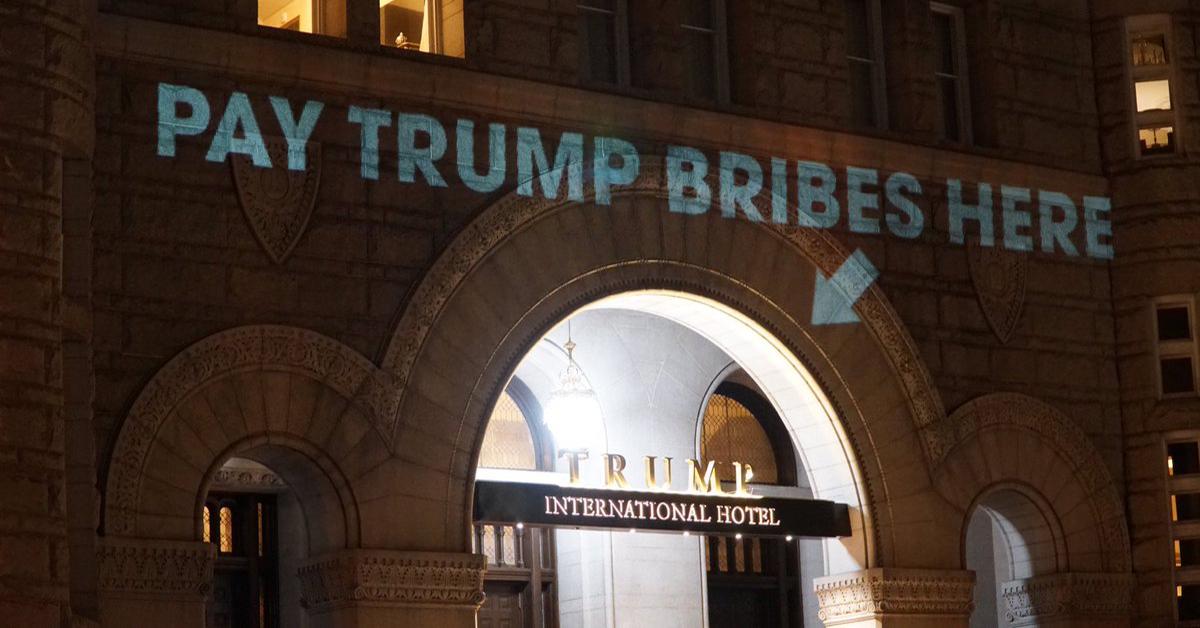 Artist Trolls The Trump Hotel In Washington D.C. With This Projected Message
By Mark Pygas
On Monday night, the Trump International Hotel in Washington D.C. was trolled by a guy with a projector. Artist Robin Bell lit up the side of the building with various graphics that criticized President Trump in a powerful protest. The example below makes reference to the emoluments clause in the U.S. Constitution that prohibits federal officials from taking payments from foreign governments.
President Trump is currently facing a lawsuit filed by ethics watchdog group Citizens for Responsibility and Ethics claiming that he violated the clause by accepting payments from foreign states through his hotel. It's the latest in a string of suits to hit the embattled President who is current being investigated for his involvement in the Russia election collusion from special prosecutor Robert Mueller.
That wasn't the only image projected onto the side of the building, though. Twitter users who spotted the light show took to Twitter to share images and they were loving the directness of it:
The protest took place only hours after The Washington Post reported that President Trump had divulged highly classified information to the Russian foreign minister and Russian ambassador in a meeting. People were understandably unhappy because it's considered a huge faux paus for the administration to give up such sensitive details so haphazardly with almost nothing in return. Trump has never been known for his good calls though, he tends to make a lot of questionable decisions at the spur of the moment without really thinking them through. Classic Trump.
Trump took to Twitter on Tuesday morning to defend himself:
Talk about timing. We're sure Trump isn't happy with it. We wouldn't be surprised if he took to Twitter to voice his concerns but he's likely too busy watching the fake news media CNN to even have noticed it.