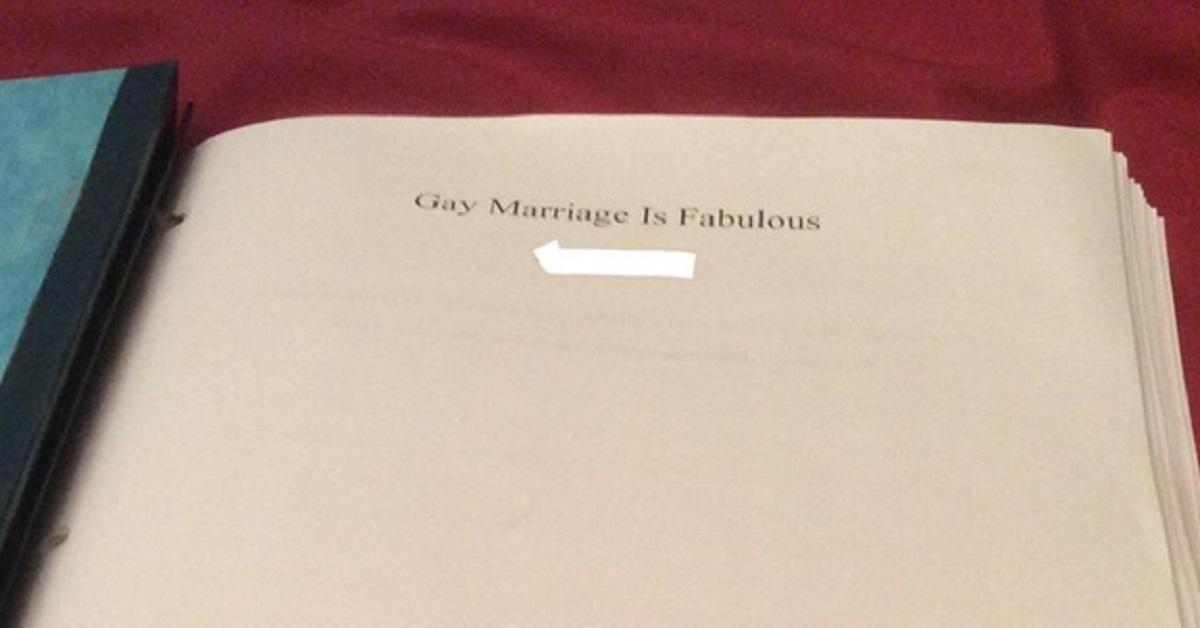 Catholic School Teen Writes A 127 Page Essay Supporting Same-Sex Marriage
In a Missouri Catholic high school's morality class, students were assigned an essay having to explain why the church's stance against homosexuality is correct.
Article continues below advertisement
But at least one teen in the class voiced his displeasure with the assignment, but not just in angry tweets or Facebook rants.
He decided to write a 127 page masterpiece defending same-sex marriage as his assignment, instead.
Article continues below advertisement
Reddit user averagesmurf, author of the glorious document, uploaded it to Reddit's r/lgbt subreddit last week. The title? "Gay Marriage is Fabulous."
Article continues below advertisement
Averagesmurf says that he had previously disagreed with his teacher on separate occasions about how current church attitudes forbidding homosexuality are wrong by using a lot of biblical evidence, and how other church teachings to show how discrimination against members of the LGBTQ community are not only inhumane, but anti-Christian, as well.
The teen brought up the age old argument many religious schools of thought use when arguing against supporting homosexuality, which is that somehow being gay is also linked to being a pedophile, something that the teen discredited immediately.
Article continues below advertisement
"When we we're talking about 'gay = pedophilia,' I said that there was no evidence nor science to back the claim up, but rather much to discredit such a laughable theory. Furthermore, I went on to say that the only people who have higher rates of pedophilia are priests who molest little boys. Her response was, 'Is that a fact? Or is that just something the media wants you to believe?' She went on to totally deny that priests had ever molested children," averagesmurf wrote on Reddit.
And because you can't believe everything you read on the Internet, people started accusing averagesmurf of lying about the paper. Then he posted this.
Article continues below advertisement
He made a gif of him counting all of the pages of the essay. He even uploaded the paper to Google Docs. You can read the entire thing, if you're so inclined. The teen says that he doesn't think the paper is perfect and it could definitely use some work, however, he is nonetheless proud of the months he spent writing the thing. Honestly, it's pretty impressive, especially considering the fact that it's the length of most grad school and PhD thesis papers.
Article continues below advertisement
The teen even shared his favorite part of the essay: the conclusion.
"God created you, and he made no mistakes, God created me bisexual, and he made no mistakes, and he creates some people gay, and makes no mistakes. For everything created by God is good, and nothing is to be rejected' (1 Tim. 4.4-5). Marriage is not between man and woman, marriage is between love and love. Love is not wrong, love is not a mistake, love is not an abomination, love is just love.
You have to admit, that's pretty awesome.