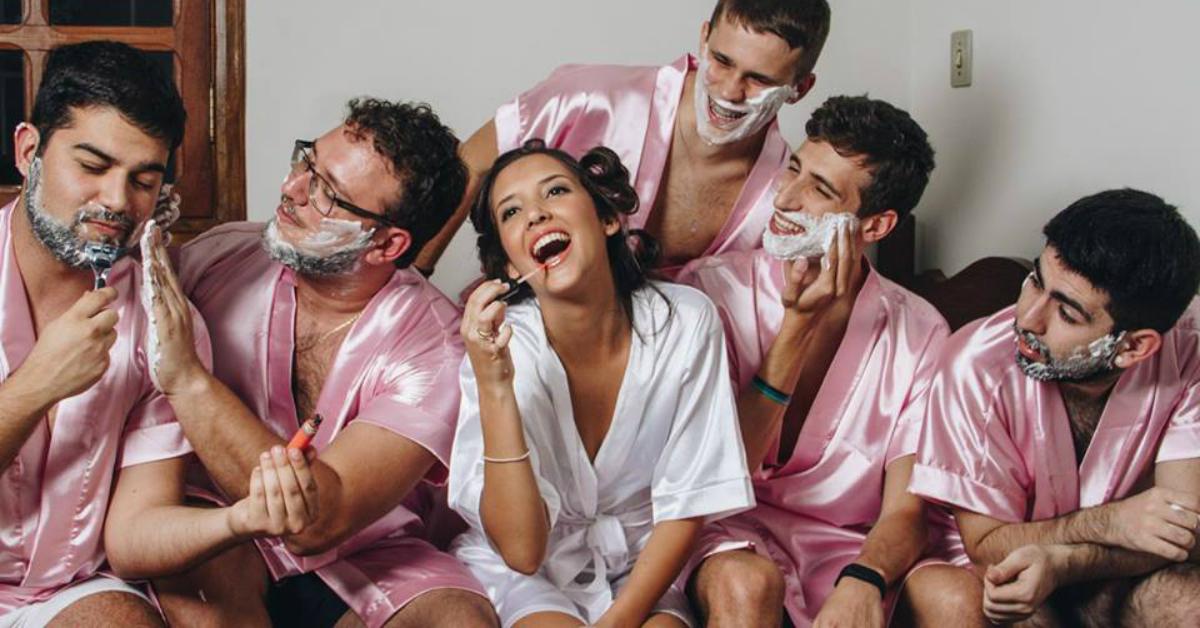 This Bride Got Her Guy Friends Together For A 'Bros-Maids' Photo Shoot
By Mustafa Gatollari
This is Rebeca Sinohara. She's a 24-year-old computer engineering student from Itajuba, Brazil.
When prepping for her wedding, she got a little down in the dumps. That's because all the other bride-to-be's photos she saw featured their female friends and bridesmaids prepping for the big day together. And Rebeca didn't really have many female friends of her own because, well, she's a computer engineering student.
"In my engineering classroom there were 56 guys and only four girls so it's not like I had a lot of choice," she said in an interview with BuzzFeed.
Which is why she decided that if she couldn't have bridesmaids, then she'd have bros-maids instead.
"Of course I have girlfriends from childhood and high school but we are not as close as before, and there are some girls that I lived with in shared housing during university, but none of them I became BFFs with."
"I always knew that I wouldn't have a gang of girls to be bridesmaids and to sit together putting on makeup and all before the event."
Rebeca decided to bring her five closest guy friends together for an amazing photo shoot.
The second she told them about the idea, they were immediately into it.
As if you couldn't tell from the photos.
Rebeca originally planned on making the photo shoot a simple one taken with her cell phone and everyone just posing while wearing robes.
However, once her makeup person and photographer got involved, it became a next level bros-maids photoshoot of epic proportions.
Rebeca said that at first, her fiance, Renato, was a bit sad because he wanted to take part in the shoot.
And who wouldn't? I mean, the idea of bros-maids sounds awesome.
But they did manage to squeeze him in and get this epic shot.
After posting the photos on Facebook, her bros-maids album quickly went viral, racking over 50,000 shares.
She posted it with the caption: "When the bride doesn't have any girlfriends, it's time to call her bros. This is what happens to a girl in Computer Engineering."
Rebeca was surprised by the response, saying that the photos were intended just for herself.
As for the bros, all five of them attended Rebeca's special day.
"The wedding was simply amazing. Renato [her husband] and I share a great love, and it's easy for people to see and feel that when they are around us. It was a very simple and intimate event, and everything was planned just the way we like."
Rebeca says that all five of her friends cried at the ceremony, too.
She just hopes someone caught that on camera, which would probably be the perfect accompaniment to her bro-tacular photoshoot. (h/t buzzfeed)