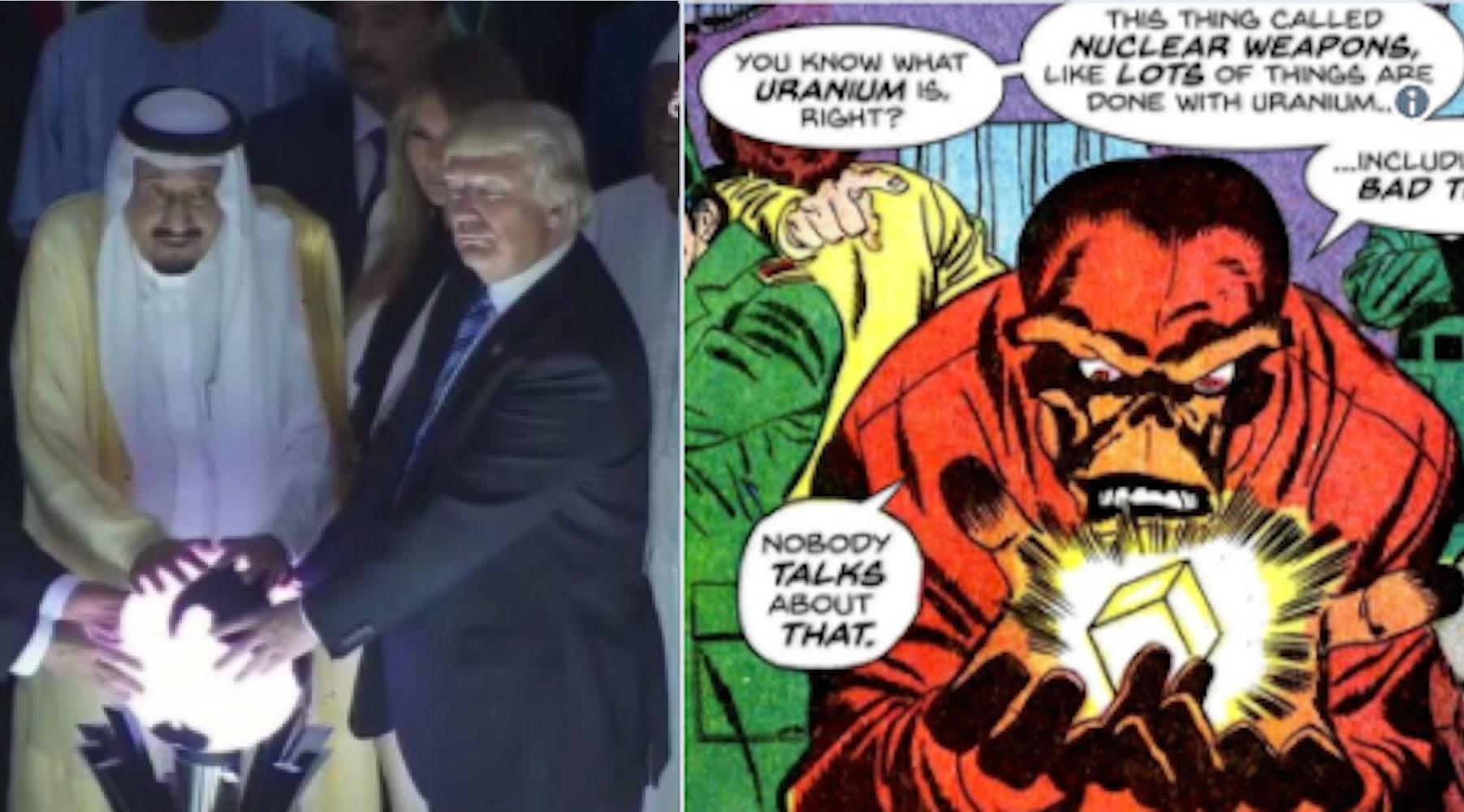 Everyone Is Making Memes From That Photo Of Donald Trump Grabbing A Glowing Orb
By Aimee Lutkin
Donald Trump is currently on his first major trip as president, traveling through the Middle East and then to Israel. He is, of course, meeting world leaders, some of whom are more controversial than others. But then, so is he, so it's kind of the perfect union. King Salman bin Abdulaziz of Saudi Arabia and Egyptian president Abdel Fatah al-Sisi met for what they apparently thought was a fantastic photo opportunity: standing around a glowing orb, grasping it as though it's feeding them unspeakable power.
Okay, you're probably wondering what that orb is. Well, it's not some ancient power center that we should treat with reverence and respect, as I initially feared. But don't worry, we can make fun of it.
The globe is a symbolic...thing...that was built into the new "Global Centre for Combating Extremist Ideology" which opened on Sunday, according to The Guardian. Touching the globe activated the headquarters, so it was sort of like a ribbon cutting ceremony, only a hundred times creepier. At least the bizarre image of Trump's glowing ecstatic face has resulted in a lot of memes. Because doesn't that picture remind you of some things:
Glowing orbs have been an important part of our culture as signs of impending doom, or unholy power that should never fall into the wrong hands. As usual, the Trump administration is a little too on the nose. While the memes are great, the jokes about the image alone will make you lol. After all, you don't need to add much to this picture to make it seem unbelievable.
Very funny, but if touching a glowing orb is the most evil thing Trump does on this trip, we should really consider ourselves lucky, in my opinion.