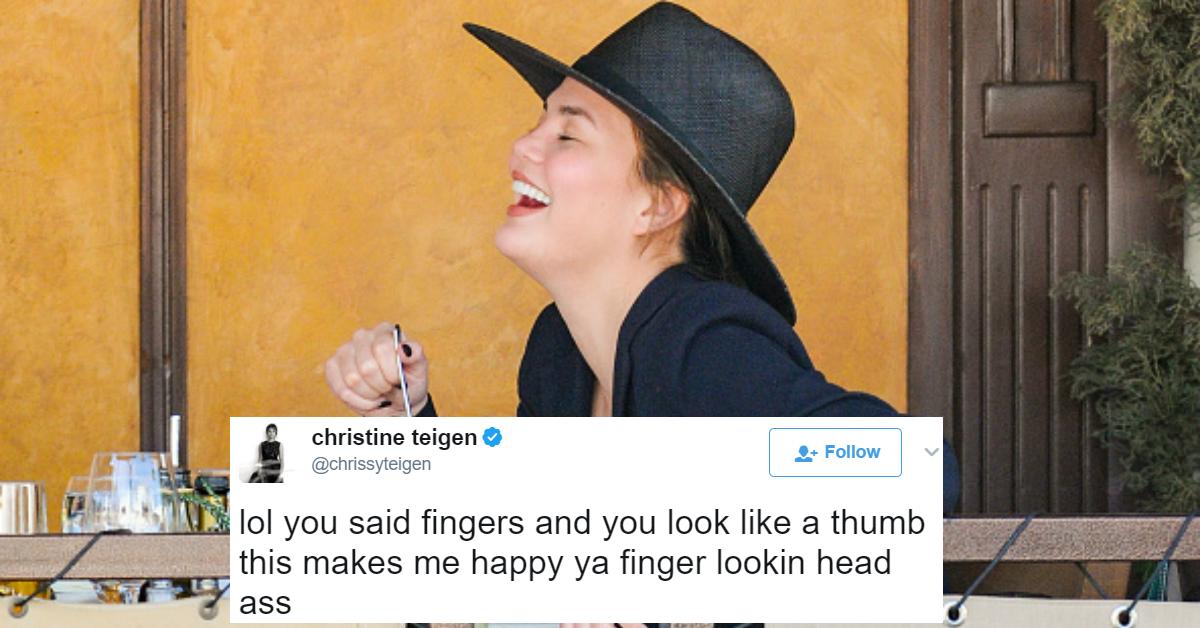 Chrissy Teigen Mercilessly Roasts Twitter User For Offensive Comment
By Mustafa Gatollari
There are some people who are just really, really good at Twitter, like J.K. Rowling. You can bet that whenever trolls get at her, or there's a significant event that's particularly full of scumbaggery, that Rowling is on the case and ready to verbally smack down anyone who chirps up.
Someone who is equally amazing at Twitter, but with a roast style all of her own, is Chrissy Teigen. The model and TV personality is known for some pretty amazing tweets and clapbacks on social media, mercilessly burning anyone who dares to step on her.
There's a kind of bluntness that she uses with people who are being obvious jerkwads, showing them the same kindness that they show her, and doubling down on the insult level. This latest case takes it to savage new heights.
It all started when Teigen tweeted about Melania's now-infamous swatting of Trump's hand.
Teigen's been very open regarding her opinions on Trump's presidency and has been a critic of him well before he ran for office.
So by now, you'd figure people would be used to the fact that she relishes every opportunity to prove how unfit Trump is to lead America and point out how much of a wreck his personal life is.
Which apparently didn't sit well with this one Twitter user. So he tweeted this at Teigen:
He seemingly insinuated that her "class" only qualified her to be a manual laborer at a restaurant.
Teigen, obviously, didn't take too kindly to that, so when she noticed the guy looked like a "thumb," she let him have it.
It started a conversation on people recognizing a supposed pattern among bigoted Trump supporters.
Along with people joining in to roast the dude for his gross comment with gross comments of their own.
Some just pointed out that his proclaimed profession says it all.
Others just delighted in her roasting skills.
Thumbs beware, if you try spouting racist nonsense at Teigen, she will call you out.