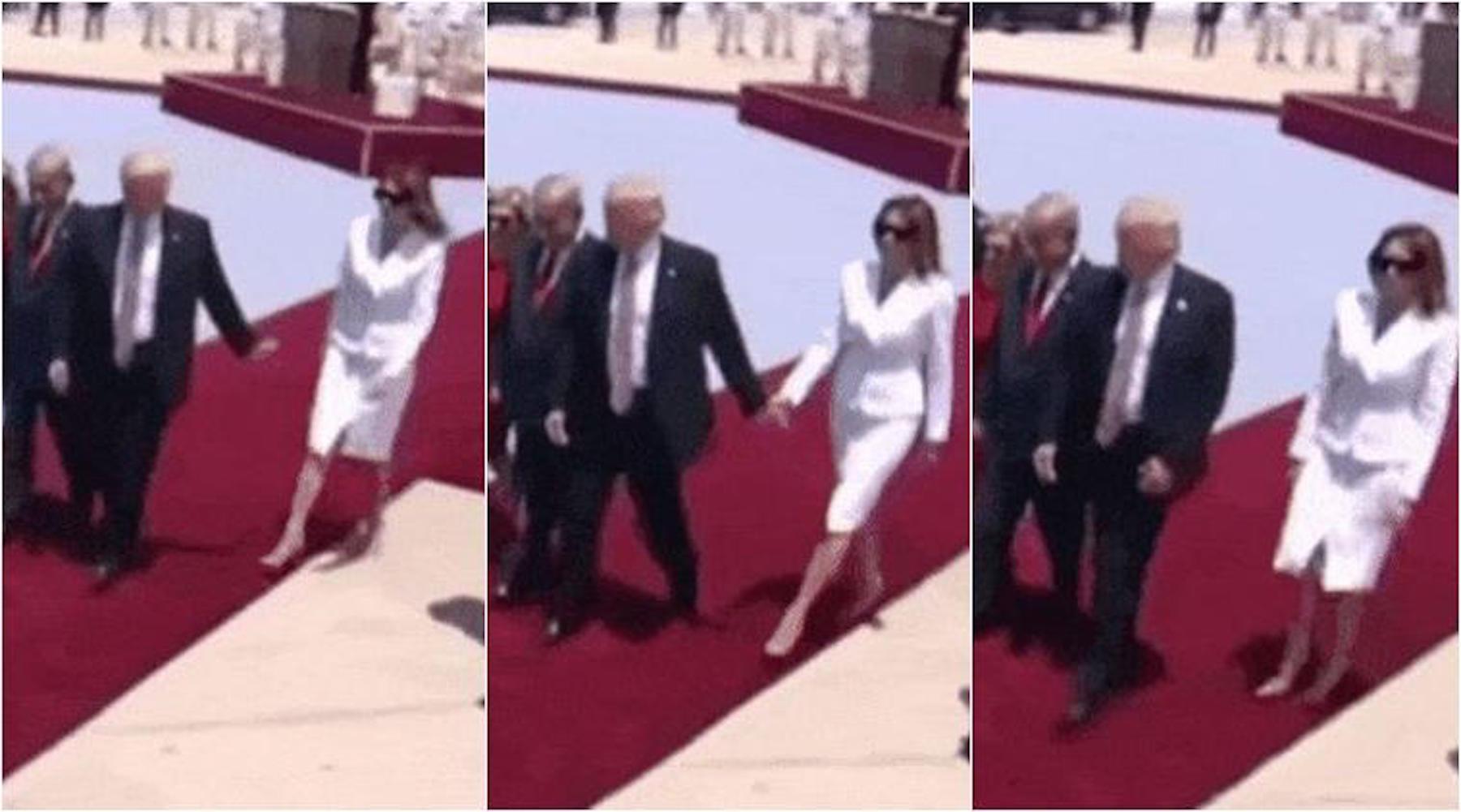 Melania Trump Keeps Smacking Donald's Hand Away From Her On Camera
By Aimee Lutkin
Donald Trump is currently on a very normal and not creepy at all trip through the Middle East which has been ripe for mockery and ridiculous photo opportunities. It's also led to a very careful documentation of Trump's boarding and departing of Air Force One with Melania Trump. Someone should really tell these two that they're on camera, because for the second time, Melania has been seen shaking off her husband's hand when he reached towards her hand. The first instance was captured on Monday as they landed in Tel Aviv:
Oh my god!
It's a longstanding rumor that she absolutely hates him, but maybe she was just afraid that once he clamped on, he'd never let go. Everyone is terrified of Trump's notorious power-play handshakes, which he's tried on Justin Trudeau and refused to administer on Angela Merkel. Or she just doesn't like holding hands. Because now it's Tuesday, and look what happened:
He went for it again and seemingly got denied. As the two walked down the stairs in Rome on Tuesday, Trump seemed as nervous about going down the stairs as any overgrown toddler with no center of gravity, and apparently tried to get his wife to assist.
No way. This time she more subtly swept her hair aside instead of straight smacking him. You'd think by now the president would have learned that his wife seemingly will not hold his hand, no matter the circumstances. But his problem is that he can't really seem to learn anything, if you ask me. In fact, in a longer clip, you can see he just places his hand on her butt, another habit of his that may never be broken:
Meanwhile, former White House photographer for the Obamas just posted this:
Hmm. Must be a coincidence.