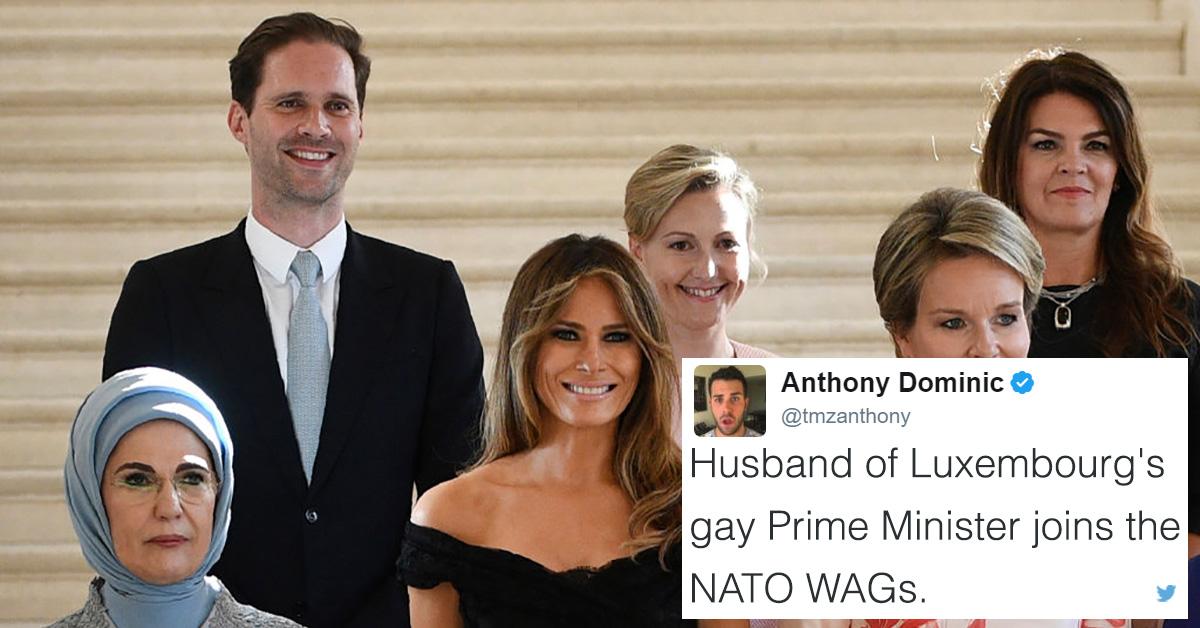 Luxembourg's 'First Gentleman' Joins NATO Wives For A Photo Shoot
By Mark Pygas
Political leaders are always in headlines and history books, but recent years have shifted focus to their homes rather than the office they hold. For years now, politicians have become somewhat humanized by the inclusion of their families in public events. Many have their wives with them whenever they travel to large press and PR events, and when scandal pops up, their absence or less than pleased expressions while they stand in the background tell us more than any of them would like us to know.
For years, these group photos involved first ladies wearing either their very best cultural clothing, or high end business attire and posed in a group with other first ladies. The photoshoot usually followed up with questions, interviews, and news on the latest developments in programs they personally oversaw back in their home countries.
The thing is, the future is now and first ladies weren't going to be first ladies forever. The the rising global acceptance of gay people, it was only a matter of time before a gay world leader would be elected who would bring along his or her spouse on these political PR trips, and while 'first lady' may work for a female couple, 'first gentleman' was coined to help introduce the newest member of the elite spouse group of the world.
It showcases that the world is changes despite those who don't want it to, and in ways they don't want it to. Too bad for them this is only the beginning of that shift, and it was a major step forward in the right direction.
World leaders from across North America and Europe are currently in Brussels, Belgium, for a NATO conference. And with them came their spouses, who assembled at Royal Castle of Laeken on Thursday evening for a photo opportunity before a dinner especially for spouses in the evening.
But one attendee stole the show, and it wasn't Melania Trump. It was Gauthier Destenay, the husband of openly gay Prime Minister Xavier Bettel of Luxembourg.
Bettel became the first openly gay European leader in 2013, and married Destenay two years ago, just a few months after he led efforts to legalize same-sex marriage in the country. Bettel is the third openly gay head of government in modern history, and the only one currently serving.
So it's unsurprising that social media got pretty excited about the moment.
This is a big step forward.