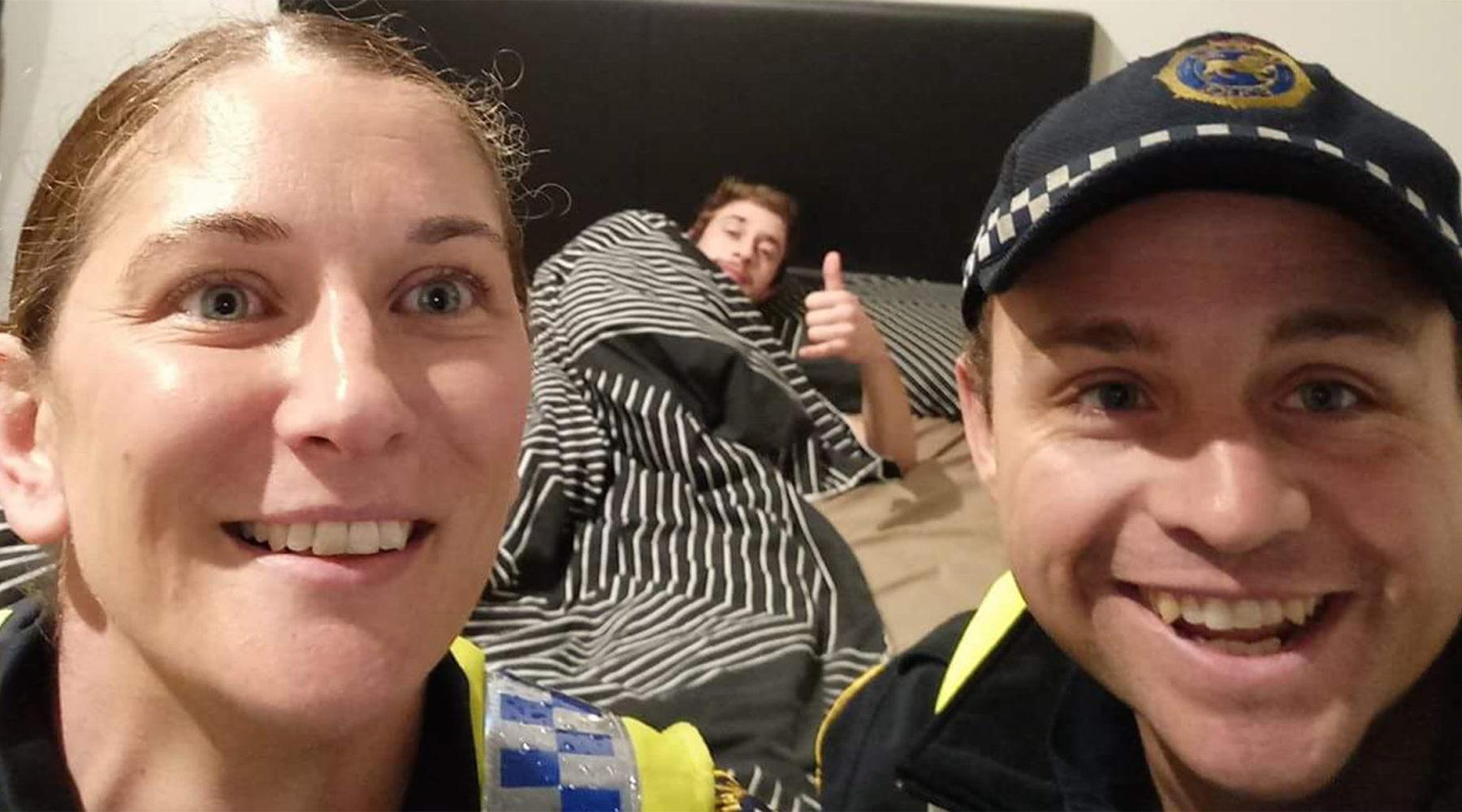 Drunk Man Wakes Up To Selfies Of The Police Officers Who Took Him Home
A man who got blackout drunk woke up the next morning to selfies on his phone from the police officers who got him back in one piece.
Imagine going out one night and finding yourself safely back in bed the next morning, but not remembering how you got there. While this may sound like a plot to a summer hit that will ultimately be forgotten with time, (the movie was probably made already) there have been several occasions of people waking up the next morning only to find that some person cared enough about their well being to actually make sure they got home safely.
A Tasmanian man has gone viral for drinking himself into a blackout and getting saved from some bizarrely friendly officers. Australians sure seem to do policing differently. News.com.au reports that Reece Park had a wild night and ended up in a cab somewhere near his home completely blotto on Friday evening. The driver called the cops, and instead of slamming Park in jail, Constables Natalie Siggins and Jeremy Blyth escorted him home and left a selfie on his phone, so he'd remember how he got there:
Article continues below advertisement
Don't worry, someone asked the important question:
Article continues below advertisement
It's hard not to think about all the ways this could have gone wrong for Park. This image was taken in a pretty small town on a somewhat isolated island, and they apparently have some unique ideas on community policing. A few Queensland commenters on Reddit have said that officers are called the police service rather than the police force so as to seem more community-oriented. They're at least in touch enough to know that the photo has become wildly popular on Reddit. The Tasmania Police addressed it on their Facebook page, writing:
Article continues below advertisement
Snr Sgt Fox said that police did not normally drive people home who were suffering from the effects of alcohol."However police are always looking for a place of safety for anyone who is affected by alcohol. On this occasion, police were contacted by a taxi company for assistance in getting the man home. When police arrived, they found out his address, took the man home and waited for a friend to arrive to look after him," he said."Because he was a bit worse for wear, our officers took the opportunity to record the moment with a selfie in the likely event he could not remember how he got home."
Article continues below advertisement
Park and his saviors were even interviewed on the local news:
Article continues below advertisement
When asked if the experience might have turned him off drinking, Park only responded, "I dunno." Hmm, think we know what that means.