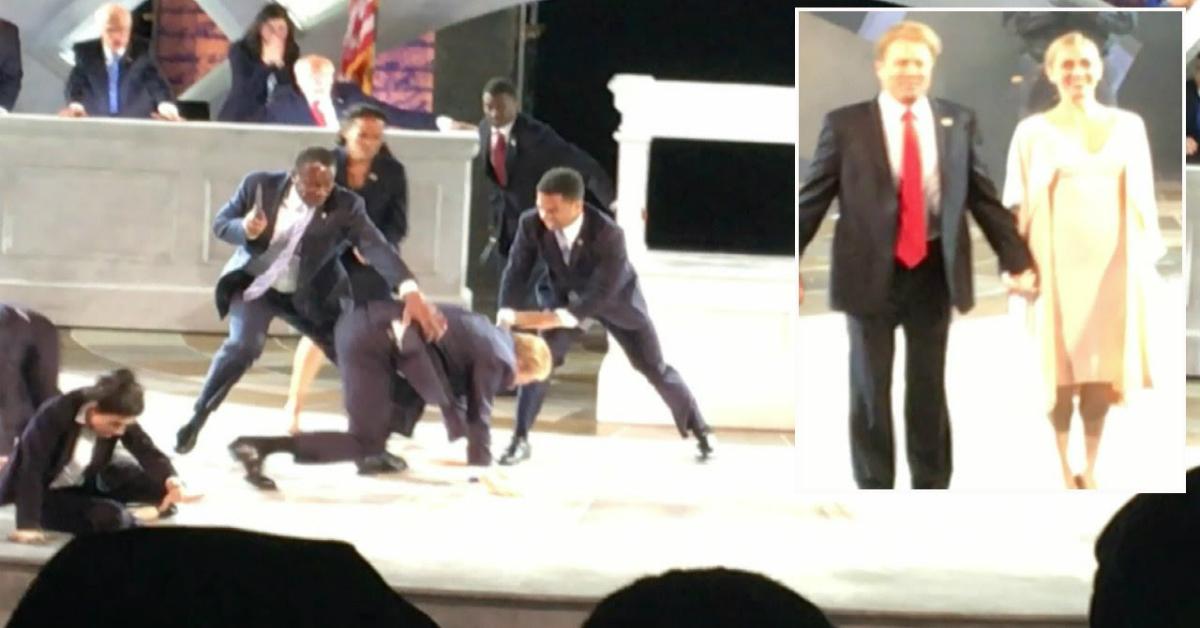 Trump-Like 'Julius Caesar' Loses Sponsors Because Of One Controversial Scene
By Mustafa Gatollari
Comedian Kathy Griffin caused quite an uproar when she released photos of herself holding a decapitated head of Donald Trump covered in blood.
Obviously it was a fake head, and obviously people were shocked by the gruesome image. The TV personality was put on blast by pretty much everyone for the tasteless and vulgar display, but apparently, she's just part of a trend where people are depicting the Donald's death in art.
Like this new Shakespeare in the Park production of Julius Caesar that puts a modern twist on the old text: by dressing the cast members as modern-day politicians.
The play's titular character is portrayed by an actor with a ridiculous mound of blonde hair, and an over-sized suit and tie. As Adario Strange over at Mashable points out, this costume "has led some to believe (including some theater critics) that the intent was to show a theatrical version of Trump being assassinated on stage."
The direction ended up costing The Public Theater two high-profile sponsors: Delta and Bank of America.
"The Public Theater chose to present Julius Caesar in a way that was intended to provoke and offend. Had this intention been made known to us, we would have decided not to sponsor it. We are withdrawing our funding for this production."
In my opinion, nearly all works of art are political. Heck, even Zootopia and the X-Men comics and movies make some pretty strong political statements.
Given the Public Theater's track record of putting on incendiary plays, it's difficult to imagine that they're going to change up the show.
It's also worth mentioning that Trump isn't the only president who's been portrayed as Julius Caesar in US theater productions.
Delta's decision to pull out ultimately ended up sparking a massive online debate about freedom of speech and whether or not the play was wrong to depict this sort of death on stage. What do you think?
[h/t Mashable]