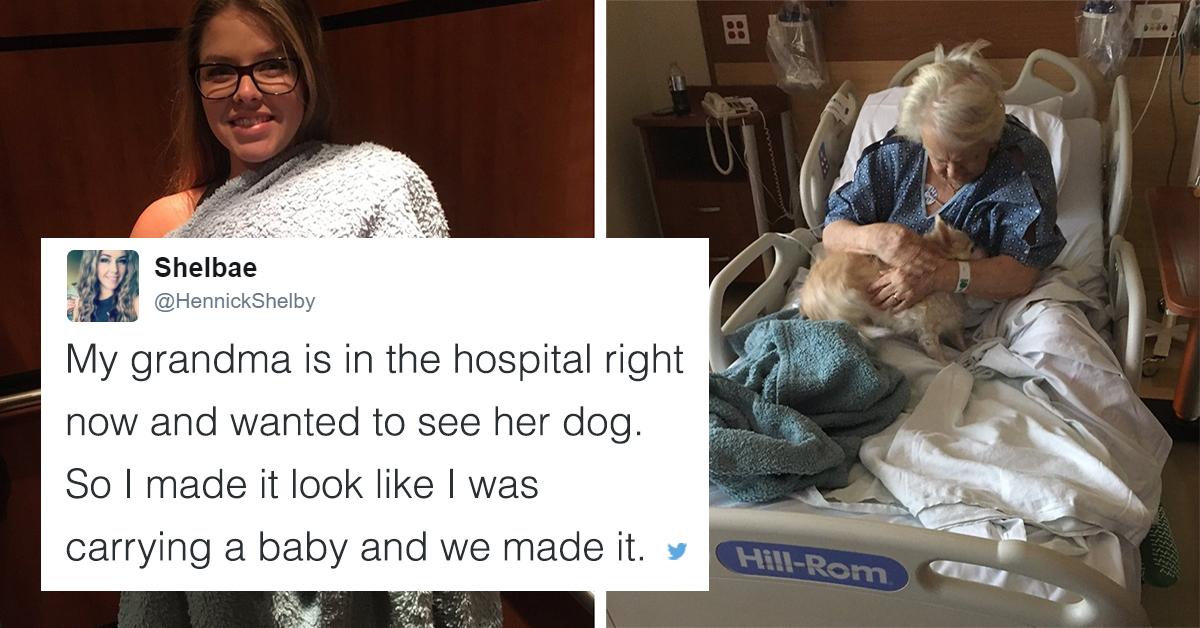 This Family Snuck Their Dog Into The Hospital And People Love It
By Mark Pygas
Our pets are part of the family. It's just how it is. We invest so much into them that it hurts when we can't have them around We want them to pretty much be there for every huge moment in our lives. While some hospitals make exceptions, not many allow cats and dogs to visit their owners, despite the tremendous health benefits. It's probably why you see so many people getting the dogs registered as stress relief animals on planes. I mean we get that flying is scary but do you really need your Turkey with you on a flight? All joking aside having your furry friends with you in stressful situations does have a huge impact on things and can definitely make things like a major surgery or medical event go much smoother.
Twitter user Hennick Shelby's grandma is in the hospital, and wanted to see her dog. The hospital allegedly wouldn't allow it, so Shelby and her family decided to pretend the dog was a baby to sneak it into the medical facility.
This pupper was able to become a super star after it got out on The Internet.
Unsurprisingly, people love it and for good reason cause it produced one of the cutest moments so far this year.
Others, however, weren't so happy as they pointed out some of the risks that can arise from it. Many patients could actually suffer from adverse affects from the animals prescience which could complicate their already dire medical situation.
Best granddaughter. Do you think it was ok to bring the dog in to see it's family? It certainly made for a cute moment that probably made the whole visit much more comfortable for the family, but it does come with a bit of controversy.