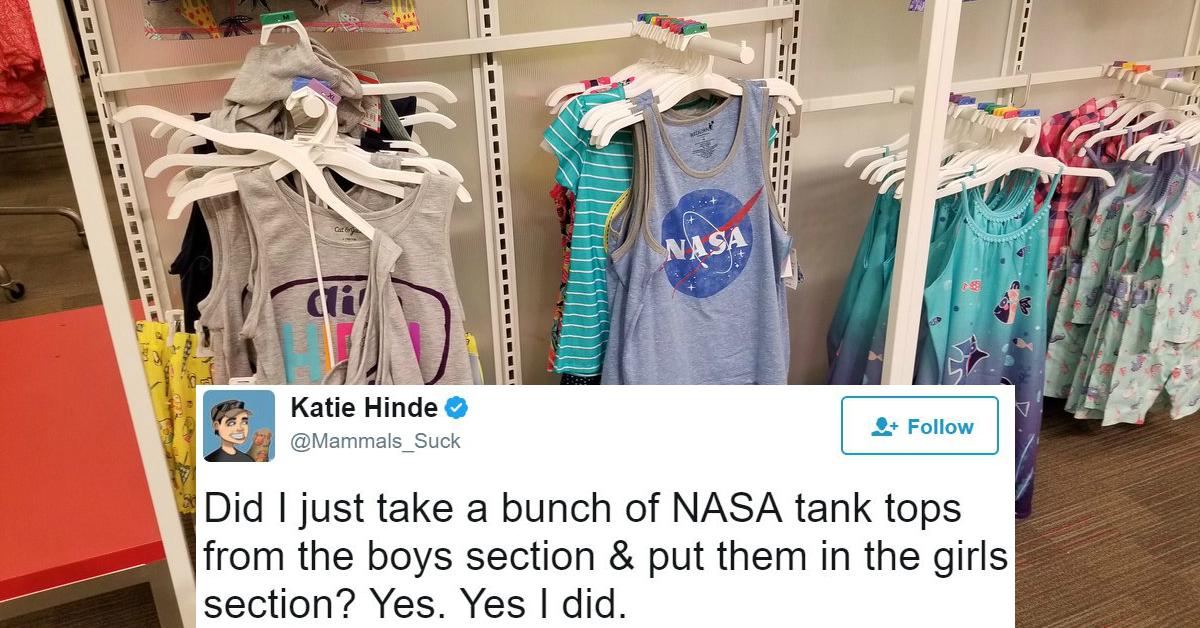 Woman Rearranges NASA Shirts In Target And Stirs Debate On Kid's Clothing
By Mustafa Gatollari
Gender branding is something that exists on things that really isn't necessary. For instance all shaving cream is pretty much the same. Vitamins? You're probably not getting too much more from a pink bottle than you would be with a blue manly one. Same is true for things like toothpaste. But it gets especially bad when it comes to clothing. We get that there are target audiences but some clothes can just be unisex like this woman is pointing out.
When Twitter user Katie Hinde was perusing the selection at a Target store, she noticed that there were plenty of NASA t-shirts in the boy's clothing section, but in the girl's. Kind of lame if you ask us, science rules.
The "feminine" clothing that decorated the girl's racks was filled with floral designs, adorable fishes, and pink and purple butterflies, but allegedly no NASA branded gear.
So she went and changed that.
There were some Twitter users who applauded her decision.
But some felt that Hinde's move, although well-intended, was just going to make life more difficult for retail employees.
Hinde thinks that annoying retail workers will inevitably result in a message being sent to the "higher ups" that people want to see more gender neutral clothing on shelves.
Some people pointed out that their Target stores carried a variety of gender neutral clothing options.
And there was even a time when girls had their own NASA-branded t-shirt that looked pretty darn cool.
The retailer even reached out to Hinde with links to their large variety of clothing for girls.
Did she just jump the gun? Or do you have difficulty finding gender neutral clothing options for your kids? It's a true struggle for some parents.