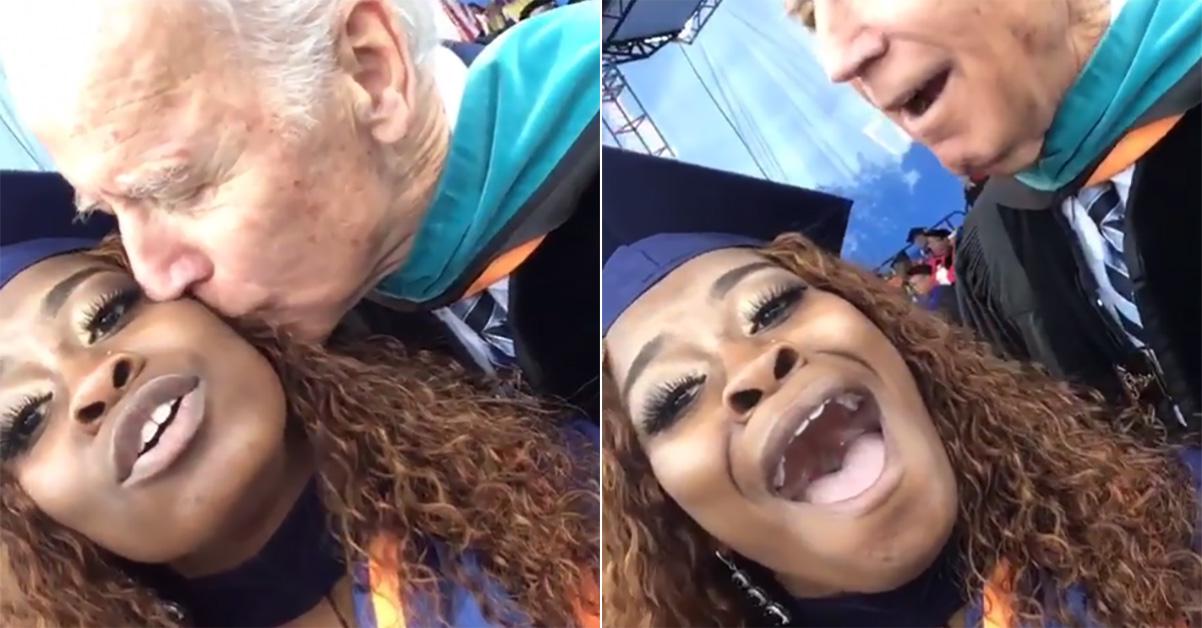 Joe Biden Kissed A Graduate On The Cheek And People Are Jealous
By Mark Pygas
People love Joe Biden. So much so that he's even got a flavor of ice cream named after him. And despite the fact that he's getting on a bit, college students seem to swoon over him on a pretty regular basis. So they were pretty jealous of Morgan State University graduate Brieana Carter when she posted a video of herself getting a peck on the cheek from the man himself.
The video took place at her graduation on May 20th, where Biden was the commencement speaker, but Carter just got around to posting it on Instagram this week. Carter, a Science and Business Administration major, says that she wanted to snap a selfie with the former vice president, but her phone was having issues.
"The first time, the picture was blurry. The second, Snapchat was glitching. The third time, it was a charm," she explained to NBC.
Carter says no other graduates got a kiss, but that she thinks it was because she was having difficulty with her phone. "He kissed me on the cheek because I'm cute, and because my phone wasn't working," she explained.
Unsurprisingly, people are pretty jealous.
Joe Biden, full name Joseph Robinette Biden, was born November 20, 1942 in Scranton, Pennsylvania. He served as the 47th vice president of the United States under President Barack Obama from 2009 to 2017. Biden received a bachelor's degree from the University of Delaware in 1965 and a law degree from Syracuse University in New York in 1968. He was elected to the U.S. Senate in 1972 at the age of 29, becoming the fifth youngest senator in history. A month later his wife, Neilia Hunter, and infant daughter were killed in a car accident, and his two sons were seriously injured.