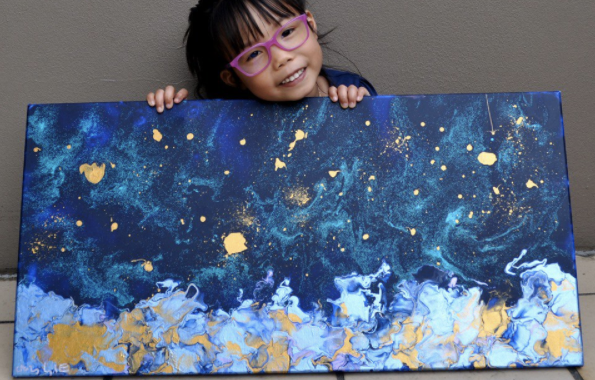 This 5-Year-Old Girl Makes Paintings That Belong In A Gallery
By Jaime Lutz
Five-year-old Cassandra Gee has been painting since the age of three, like many kids. The Australian artist loves to express herself through painting and sharing, but as much as I love the finger paintings most little kids make, Gee's paintings aren't like that. They look like art that should hang in a gallery. Her talent is something that you'd expect from arists with years of practice -- not someone who is just 5 years old.
Cassie has sold over 100 of her paintings around the world with the profits from her art work going to support charities that help people all over. Some of her most popular works use nothing but a fork to create the intricate patterns and designs that define many of her jaw dropping works of art.
Cassie's mom has helped Cassie sell her paintings on Etsy to benefit charity, according to Bored Panda. It's a great cause to see such a young artist make such a huge impact.
This video shows Cassie in action, and helps explain her technique. First, she drips paint on canvas, and then uses forks or skewers to twist the acrylic and resin paint into intricate patterns. Often, she'll add glitter or glow-in-the-dark pigments to make her swirls look galactic.
The results are stunning, and surprisingly sophisticated.
You can buy her paintings through her website or Etsy page. It's a great way to support this kids continued development into the arts. Amazing to see someone so young and already so dang talented in something that she truly loves.
It does make us feel like we're a bit inadequate. She's definitely got mad skill, we'd love to be half as talented as her. Hopefully she continues to hone her craft and some day may be one of the greats!