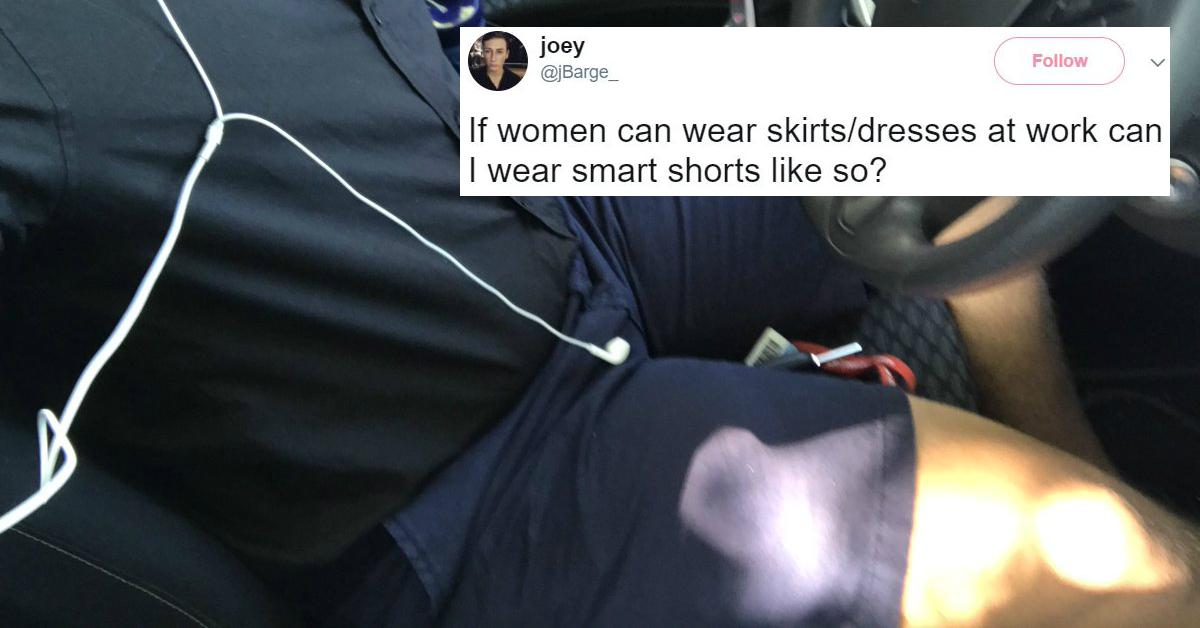 Man Follows Female Dress Code At Work To Make An Important Point About Sexism
By Mustafa Gatollari
Dress codes are not only the bane of students everywhere, but for adults who have to go adulting into the grown-up world of business, too. No matter how hot or uncomfortable it may be outside, you're still expected to wear "professional" attire when you come to work, and if you're a man that means pants and a dress-shirt or polo.
Trouble is, sometimes it's too hot for that, especially during a summer heat wave. So 20-year-old Joey Barge from Buckinghamshire, UK, decided he'd rock a pair of shorts while at work, something that landed him in trouble with his superiors.
Which forced him to pose a very practical question to Twitter, along with a photo of him wearing shorts yet again.
And would you know it, Joey was sent home for his transgression.
So he decided to take a page out of the employee handbook for females.
And tweeted this photo of himself feeling fun and fancy free in a dress.
He strolled back into work in his newfound outfit, expecting to irk the higher-ups even more.
It looks like Joey got his point across, because the office acknowledged his protest and said he could go back home and change into shorts. Joey said he was quite comfortable in his dress, however, and said he'd rather continue the work day in his new digs.
The company did change its policy regarding men wearing shorts in the office, however, and relayed the information in a company-wide email.
Here's hoping other offices follow suit and if they don't, well, bring out the dresses, gentleman. (h/t mashable)