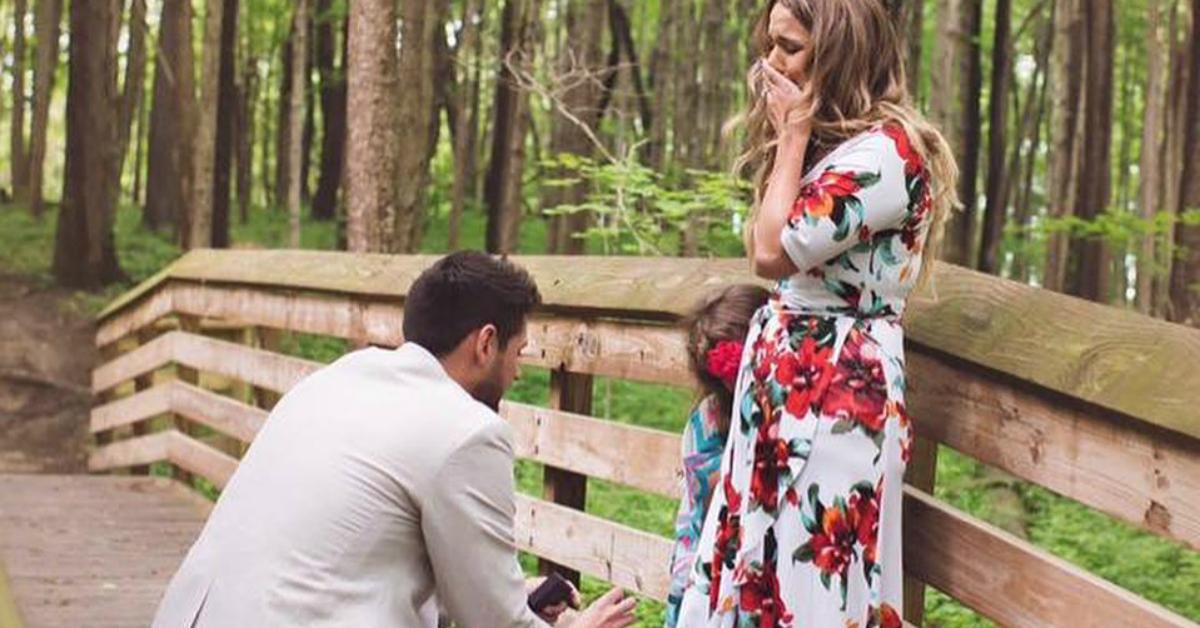 Man 'Proposes' To Woman's 5-Year-Old Daughter After Asking Her To Marry Him
By Mustafa Gatollari
There are few things that'll induce tears like watching someone ask another person to marry them.
But for me, watching a parent ask a young child to adopt them is what really gets the waterworks going. Which is why I find this story so darn touching.
When Grant Tribbett started dating Cassandra Reschar, he knew that she was a single mom. In an interview with Today, he says it was one of the things that he loved most about her, and that he really hit it off with her 5-year-old daughter, Adriana.
Tribbett then planned an elaborate proposal that began with a trip to Cracker Barrel for some breakfast. Reschar wrote about the experience:
"My daughter and I got all dolled up and he took us to Cracker Barrel. Confused as to why I got so dressed up to go to Cracker Barrel, I immediately became nervous."
Finished with their meals (here's hoping they got the peach pancakes), Tribbett took Reschar and her daughter to the Ritchley Woods Nature Preserve in Fishers, Indiana. It was here that Reschar, "all dolled up," started thinking things were a bit fishy.
"We walked a mile in the woods, all the while I was wearing heels. Finally, we got to a wooden bridge in the middle of the forest and he got down on one knee."
But it doesn't end there. After Reschar accepted his proposal, Tribbett got down on one knee again, this time, with a question for Adriana.
"Grant got back down to propose to my daughter. He said, 'Adrianna, can I be your daddy, to promise to love and protect you for the rest of your life?'"
Adriana responded with a resounding "Thank you!" and then when asked to answer yes or no, said, "Yes! I finally get a daddy, Mommy!" Tribbett gave Reschar a ring while Adriana received this beautiful heart-shaped necklace. Her new dad also made sure Adriana's special piece included her favorite colors, a detail that wasn't lost on Reschar.
The gesture meant the world to not only Adriana, but her mother, as well.
"His proposal to Adrianna meant the absolute world to me. In my opinion, it's special to find the man whom your soul loves, but to also find a man who loves your child unconditionally was a dream I never thought could come true."
The couple's touching story of how they met on Facebook, and eventually fell head-over-heels for each other, was featured on "How He Asked," a website and Facebook page that features tales of matrimonial goodness. You can also see more of Mandi's equally adorable photography here.
People were obviously smitten with the tale: It's been shared over 12,000 times with over 1,000 comments. Most of them, like this: