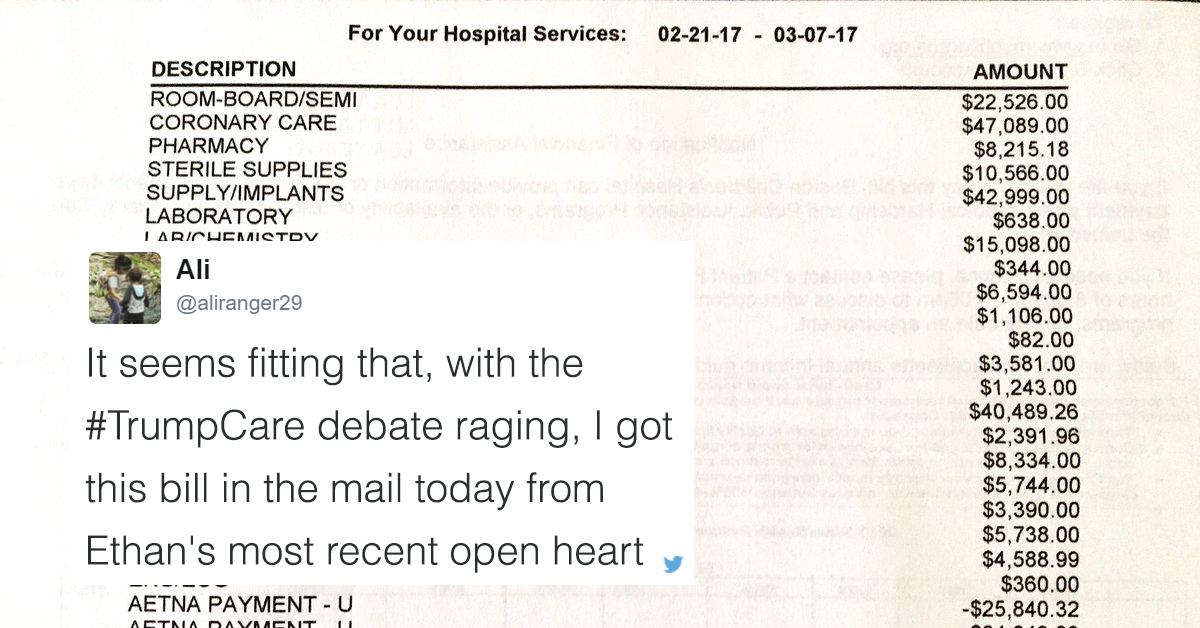 Mother Shares 2-Year-Old Son's Insane Medical Bills To Protest Trumpcare
By Mark Pygas
This week, senators are set to vote on the Better Care Reconciliation Act (BCRA), the senate's version of the American Health Care Act (AHCA), also known as Trumpcare. One of the aspects of Trumpcare that has many Americans concerned is the reintroduction of lifetime caps.
Under Obamacare, insurers are not allowed to enforce a lifetime payout cap, which proved to be a lifesaving decision for the chronically ill and the parents of children who are ill from a young age. Trumpcare could wipe out the ban on such limits and leave the decision on lifetime caps for all but "essential" care up to the states. The states would also be allowed to define what care is "essential."
Twitter user Ali Chandra, whose two-year-old son Ethan was born with a rare condition called heterotaxy syndrome, recently took to Twitter to share what this could mean. Ethan's condition led to many of his internal organs being malformed, misplaced, multiplied, or missing.
Ethan's heart is malformed, his stomach is misplaced on the right side, and his liver, gallbladder, and heart, are all down the middle of his body. Unsurprisingly, this has meant a lot of surgery. Ethan will turn three in July, but has already had four open chest surgeries.
Thanks to Obamacare's ban on lifetime caps, Chandra only had to pay $500 for the latest surgery, which was billed at over $200,000. But the mother is now concerned that the senate's healthcare plans could force her to pay more.
As Chandra explains, this could cost her son his life.
"If this bill is passed, it will depend on how New Jersey government reacts in terms of safeguarding families like ours," Chandra told Buzzfeed. "Worst case scenario, Ethan will lose coverage or his coverage will become unaffordable (which is the same thing). If lifetime caps are reinstated, we simply won't be able to afford the out of pocket costs without insurance. We would have to choose between his life and bankruptcy."
Chandra has been unable to work since Ethan was born because he requires constant care. They're currently living on her Canadian husband's salary, and fear that they might have to sell their house and move to Canada if caps are put in place. But that would also mean leaving behind all of Ethan's doctors.
Chandra's story has since gone viral, with Chandra saying:
"It's been kind of crazy, honestly, but I'm hoping that I can be a clear voice for our community and for kids like Ethan who stand to lose so much from this bill."
"I just want to share our story, to get people to realize that politics are always personal, that the statistics you read aren't just numbers. They're names and faces and little boys who stay up late catching lightning bugs."