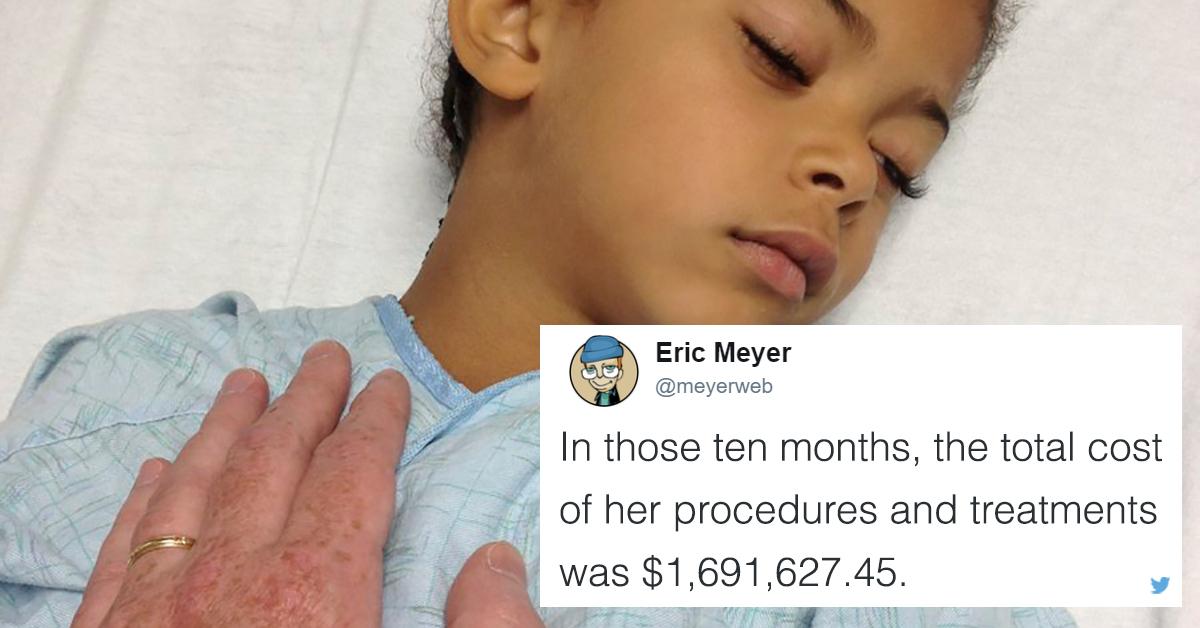 Father Shares Enormous Cost Of Daughter's Battle With Cancer To Protest Trumpcare
By Mark Pygas
This week, senators are set to vote on the Better Care Reconciliation Act (BCRA), the senate's version of the American Health Care Act (AHCA), which social media has taken to calling Trumpcare. If successful, the bill would repeal the Affordable Care Act (ACA) and have a disastrous impact, according to the nonpartisan Congressional Budget Office, leaving 22 million more Americans without health insurance by 2026.
The bill could give states the power to reintroduce lifetime caps on coverage, which could allow insurers to stop paying for the care of the chronically ill after a certain dollar amount. There are also dramatic cuts to medicaid, which covers the disabled and poorest Americans.
Eric Meyer, a web developer from Cleveland Heights, Ohio, recently took to Twitter to protest the bill by sharing the heart wrenching story of his daughter's battle with cancer, which she sadly lost. Back in 2013, Eric and his then 5-year-old daughter Rebecca set out on vacation. Within three days, Rebecca was fighting for her life.
Sadly, after a battle that lasted ten months, Rebecca died on her sixth birthday.
In a post on Medium, Eric says that he and his wife are fortunate enough to have really good insurance. In all, the hospital bills added up to $1,691,627.45, of which insurers paid $991,537.29. That still left Eric and his wife with co-pays and premiums "in the low five figures," which they were able to pay.
But if they hadn't had insurance, Eric and his wife would have gone bankrupt.
Eric goes on to slam the senate's bill, adding that if he receives any tax cuts under the bill, he'll spend every penny to unseat senators that voted in favor. America's wealthiest taxpayers, those earning $200,000 a year or $250,000 for couples would get a tax cut totaling $346bn over 10 years under the bill.
Eric acknowledges that while the ACA wasn't perfect, it was a step in the right direction:
"The Affordable Care Act wasn't perfect, and it was severely and willfully undercut after it launched, but it was a huge step in the right direction. The bill currently before Congress would be an enormous step back."
"I would spare every family the pain we endured, if I could, but nobody has that power. We do, together, have the power to help every family that must endure that pain, to give them access to the simple safety net they need, to concentrate everything they can on the struggle to heal."
He then goes on to describe life without his daughter, and that he's glad his insurance allowed him and his wife to do everything they could for Rebecca.
"I miss her every day, but I know that we did everything that could be done, including being able to afford the hospice care that kept her as comfortable as possible in her final hours, preventing the seizures and pain and fear that would have made her last moments a hell beyond endurance. Allowing her a peaceful end. Every family should have access to that."
"Please think about what it means to take that ability away. Please think about what it means to take away the ability to avoid having to make those choices."