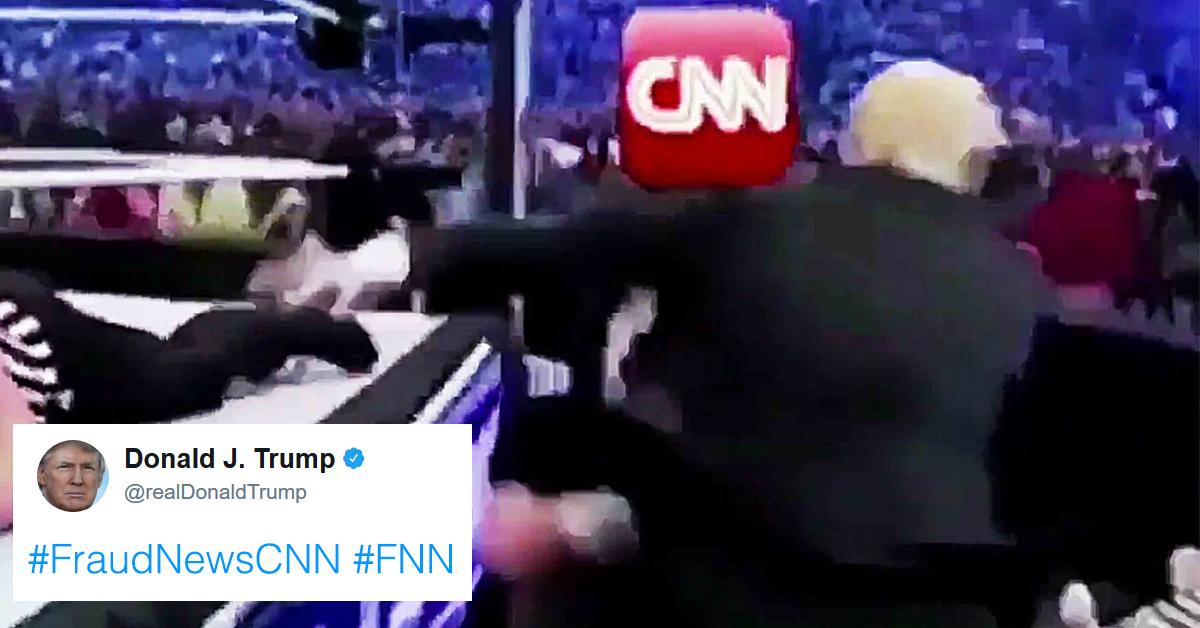 Donald Trump Punches 'CNN' In Bizarre Twitter Video And People Are Confused
By Mark Pygas
President Donald Trump and CNN don't exactly have the best record. But when Trump shared an edited clip of him wrestling and punching a man whose head has been replaced by the logo for CNN, it marked a new stage in Trump's feud with the mainstream media, which he tends to call "fake news" if they happen to report negatively on him.
The clip is an edited version of Trump's 2007 appearance on WrestleMania in which he wrestled WWE Chairman Vince McMahon.
The attack follows an earlier Twitter dispute on MSNBC's Morning Joe hosts, Mika Brzezinski and Joe Scarborough. Trump called Brzezinski "Low I.Q. Crazy Mika" and then went on to say that she tried to hang out with him at Mar-a-Lago while "bleeding badly from a face-lift."
CNN responded to the video by quoting White House spokeswoman Sarah Huckabee Sanders, who had said earlier that President Trump had never encouraged violence.
In a statement, CNN added:
"It is a sad day when the President of the United States encourages violence against reporters. Clearly, Sarah Huckabee Sanders lied when she said the President had never done so. Instead of preparing for his overseas trip, his first meeting with Vladimir Putin, dealing with North Korea and working on his health care bill, he is instead involved in juvenile behavior far below the dignity of his office. We will keep doing our jobs. He should start doing this."
But many saw the attack as more than "juvenile behavior" following an attack on Guardian reporter Ben Jacobs. Greg Gianforte, the then Republican candidate for Montana's Congressional seat, who eventually won, body slammed the reporter and was charged with misdemeanor assault.
White House homeland security adviser Tom Bossert said the media should not view the tweet as a threat.
"I hope they don't," he told ABC. "But I do think that he's beaten up in a way on cable platforms that he has a right to respond to."
Many on Twitter were quick to condemn Trump over the tweet.