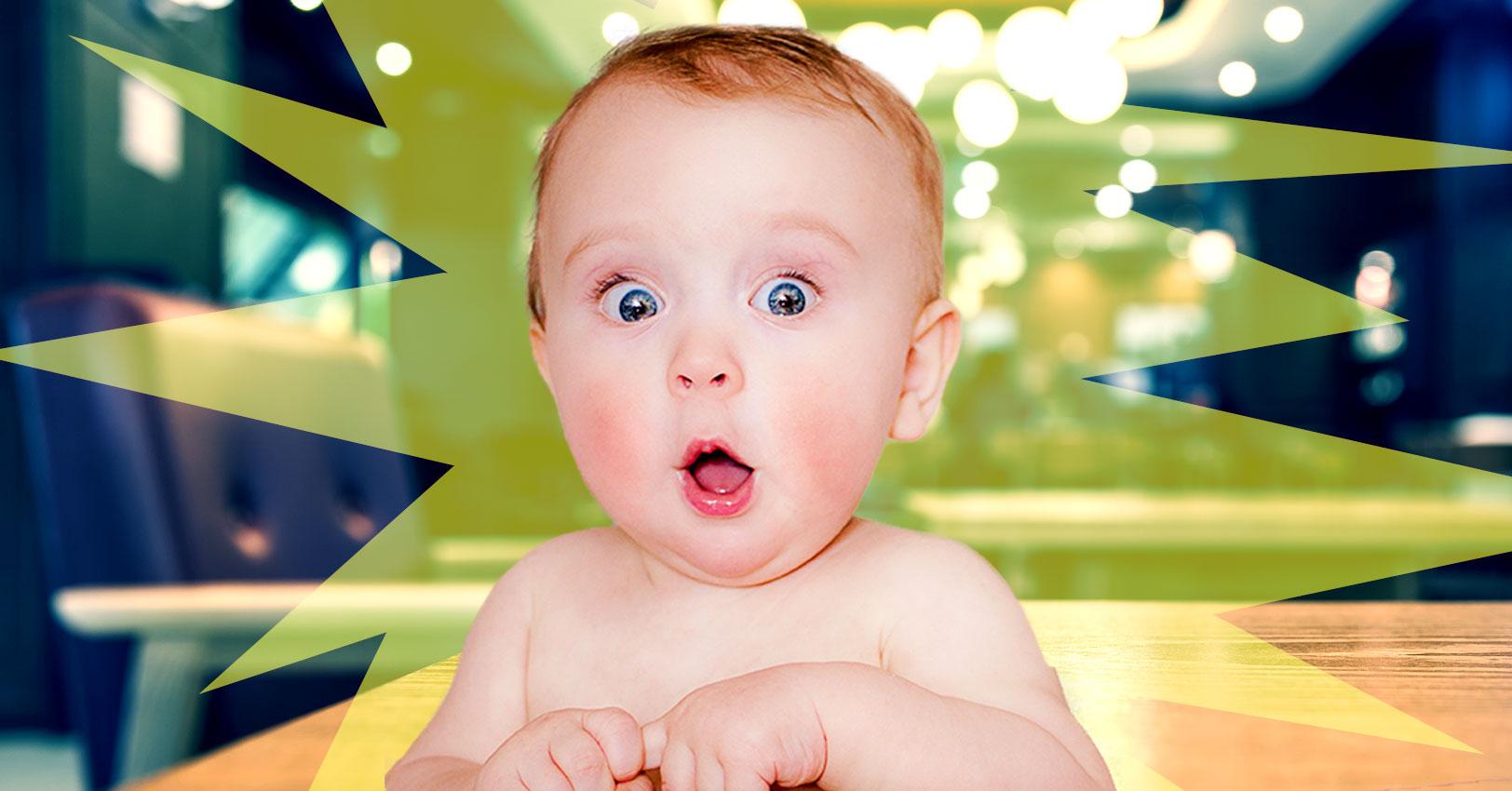 Vegan Cafe Has A Meltdown After Customer Complains About Naked Baby
By Aimee Lutkin
A vegan restaurant in Memphis called Imagine Cafe has destroyed itself on Facebook after attacking a customer who dared to leave them a two star review. The reviewer, Chelsea Bartley, wrote that while at the cafe she saw a "bare butt naked baby was running around, stood up on a table with its black theyre [sic] so dirty feet, and bent over to show me it's butthole." Hope that last word didn't shock you too much, but what else would you expect?
Bartley alleges that the owner's other child also approached her table and started "yodeling" while staring at her. Though overall she had a bad experience, Bartley allowed that she'd "probably still go" to the establishment. Those plans, however, were blown out of the water when Imagine Cafe responded on Facebook. Their post has since been deleted, but Wonkette screengrabbed the incredibly defensive post, which soon attracted hundreds of comments from people all over. You can see why:
I am about to start calling out names and pictures of people who leave us bad reviews, especially when it deals with our children. You will no longer be allowed to come and dine at Imagine. Especially when you lie about our babies. We do not need or want your business. Be our guest to go and eat at the other vegan restaurants down the street. This is going to be fun!!!! You've thoroughly irritated mama bear!!!!!!!!! We're starting with Chelsea Bartley!For anyone who reads this and is instantly scared this might affect our business, I cannot begin to tell you how much we do not care. Haters are not welcome at Imagine!!!!
They also followed up with yet more clarification about why they were naming names and shaming customers on their Facebook page, admitting that yes, a bare naked baby was running around. And yes, a five-year-old was yodeling at customers. But they dealt with it!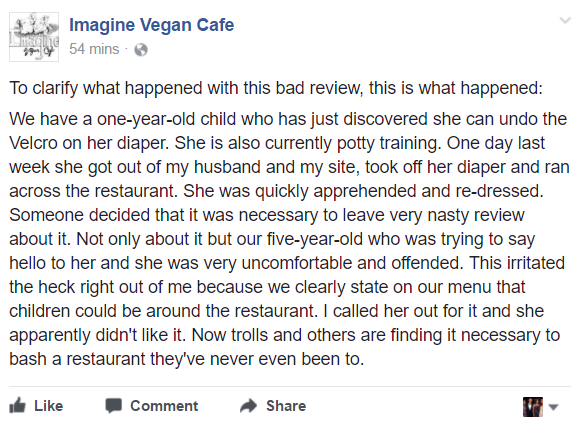 A commenter also alleged in the comments that a baby had defecated on the floor while she was eating there a few weeks earlier, though who knows if this is true (and why is she saying the employees are Mexicans like that's the crowning detail of her anecdote?)
Someone else also found an old post from Imagine about having hit a woman with their car, which really puts the butthole thing into perspective:
If you're a parent, you might be more tolerant of Imagine Cafe's position. Kids do run away sometimes, they can take their diapers off, and they will occasionally show you their butthole. But if that happens to me in a restaurant, I expect my appetizers to be comped.