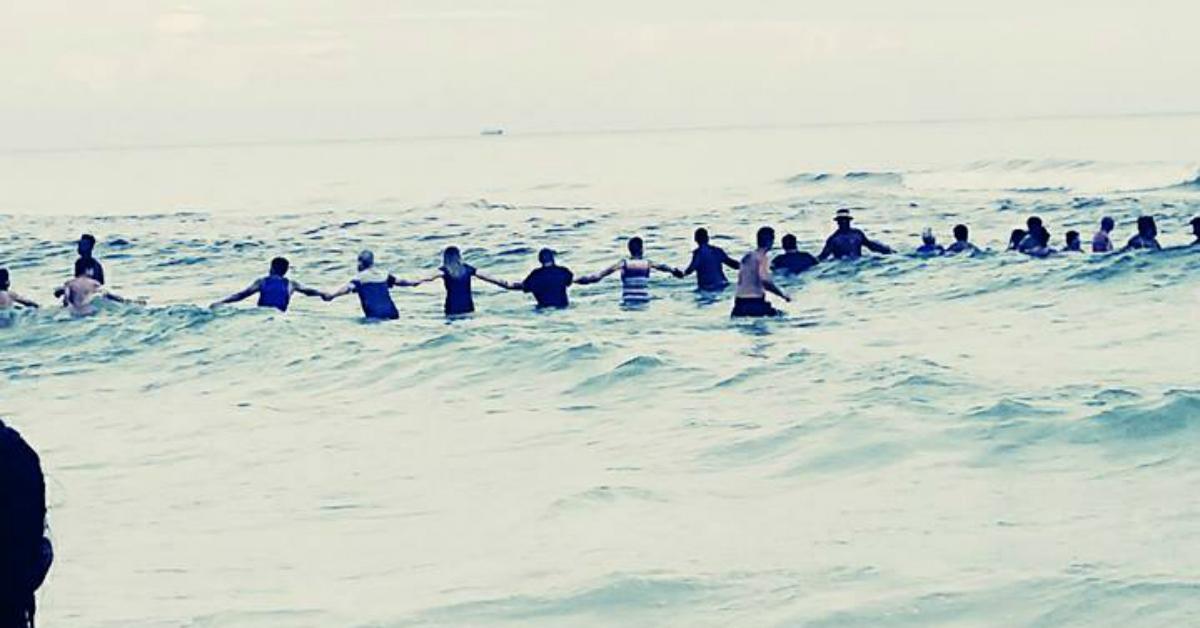 80 Beachgoers Formed A Human Chain To Save A Family Stuck In The Riptide
By Mustafa Gatollari
Something that Roberta Ursrey's family unfortunately experienced first hand when her sons were first caught in a rip current.
Ursrey heard her children screaming for help, so she swam out with her relatives to rescue them, but they were all soon caught in the current. All nine of them were trapped in 15 feet of water.
"I honestly thought I was going to lose my family that day. It was like, 'Oh God, this is how I'm going.'"
But beachgoer Jessica Simmons, who, by chance, had picked up a discarded boogie board that day, noticed the family out deep in the water, and paddled towards them with intent of helping. Meanwhile, her husband, along with some others, made a human chain that started at the shore.
The chain eventually grew to 80 people and stretched nearly 100 yards, with the stronger swimmers wading in the deeper waters. The help came just in time, too. Simmons recounts seeing Ursrey swallowing a lot of water as she helped bring the children back to shore.
The 80 or so beachgoers safely brought Ursrey and her entire family to safety. Ursrey doesn't recall being rescued, just waking up on the shore.
"I am so grateful. These people were God's angels that were in the right place at the right time. I owe my life and my family's life to them. Without them, we wouldn't be here."
Simmons counts the rescue as a victory for humanity.
"It's so cool to see how we have our own lives and we're constantly at a fast pace, but when somebody needs help, everybody drops everything and helps. That was really inspiring to see we still have that."
One of the witnesses, Rosalind Beckton, who uploaded photos of the rescue on Facebook alleges that there were people in uniform who sat idly by as the human chain was being formed.
MUST SHARE: My Day on the Beach started out FUN!!! I always feared the beach waters. I tell my son over & over don't go out far because of rip currents/undertow & all the added danger of the waters. Today he witness 1st hand what them Currents can do. Today we witness some REAL HERO'S and it wasn't THE GUY'S IN UNIFORM.... IT WAS PPL OUT ON THE BEACH THAT HAD THE CARE/HEART TO RISK THEIR LIVES TO SAVE SOMEONE. THESE PPL JOIN HANDS & PULLED OUT 8 PPL ONE BY ONE WHO WAS STUCK IN A RIP CURRENT, WHILE EMERGENCY RESPONDERS WATCHED. ONLY ONE COP RAN INTO THE WATER TO GIVE A HAND. The others stood there waiting on a boat to come.... SMH
Thank God all 8 ppl survived.
Its a cop standing looking at a lady that just got pulled out the waters in need of CPR.... He did NOTHING. Someone else assist the lady. I myself offered to help with CPR. My fun Day turn sad for awhile. God answer prayers and we all Rejoice with tears, hugs, and praises after being stuck for almost an hour.
In any event, it's amazing to see complete strangers think so quickly in the nick of time to save some fellow human beings. (h/t news herald)